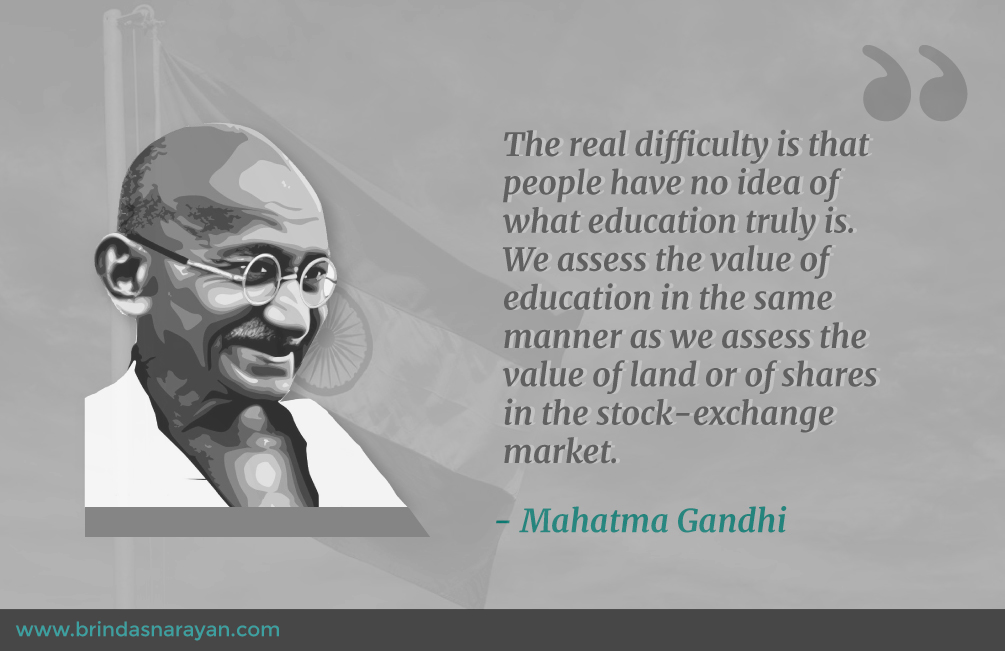 Drawing Lessons from Gandhi's Spotty Academic Record and Education
Monday, January 7, 2019
On the 150th birth anniversary of the Mahatma, I thought it fitting to learn about the nation's founder, beyond the drab and mostly forgotten facts from uninspiring history textbooks. Coincidentally, towards the end of 2018, the historian Ramachandra Guha has released the second volume of his magnificent and sprawling biography, Gandhi: The Years That Changed the World. I'm less than halfway through the first volume, Gandhi Before India, and completely gripped by the little-known stories, the trivial and tawdry details of one of history's most incandescent figures.
So far, one of the more striking aspects is his unimpressive academic record through his schooling and college years. Given the Indian culture's ongoing obsession with report cards, Board exam marks, degree certificates and other trivia that supposedly reflect a person's intelligence or potential, it is telling that our most revered leader was remarkably desultory inside classrooms.
His School Attendance Records Show Frequent Absences
In 1879, Gandhi was admitted to the Taluk School in Rajkot, Gujarat. His subjects included Arithmetic, Gujarati, History and Geography. To begin with, his attendance was erratic. According to Guha, "in the calendar year 1879, he went to school for only 110 days out of 238." Another patchy attendance record from 1881 was attributed to his father's ill health.
His School Exam Marks Were Strikingly Low or Remarkably Average
Then there were his dismal marks in his school final exams. In one set, he scored only 41.25 percent, ranking in the lower half of the class (the highest mark, for the records, was 76.5 percent). In 1880, he was admitted to the Kattywar High School. Even here, his performance was termed "discouraging". According to records, "in his first year, he passed in Arithmetic and Gujarati, but was one of the three pupils who scored no marks at all in Geography." In a year-end exam, he obtained another low rank, placing only 32nd out of 34 students.
Though later, he started performing better at High School, he never seemed to exude any standout academic brilliance that would spotlight him as a future star. His ordinary report cards were not compensated by his performance in sports, because even in those arenas, his feats were unremarkable. Like many other nervous teenagers, he performed rather badly in the school pre-finals that preceded the all-important Matriculation exam (equivalent to the contemporary Board exams). He did eventually pass the Matriculation exam, ranking 404th out of 823 students.
His Question Papers and the Values Assigned to Them Seem Absurd when Retrieved as Historical Records
The absurdity of exams and of judgments imposed on students is highlighted by surviving Matriculation papers assigned to Gandhi's cohort. While the English paper asked him to write 40 lines about the "advantage of a cheerful disposition," the Gujarati paper, asked him to translate a passage that suggested that England should redirect funds used to erect statues of Queen Victoria to bolster India's industrial standing. One wonders, if Gandhi, then still an obedient and unquestioning subject of the British colony, was struck at all by the irony of having to translate that passage to English.
Despite His Ordinary Record, He Was Considered an Academic Star Inside his Family
Inside his Bania family, however, Gandhi's performance was appreciably better than that of his siblings. His older brother Laxmidas had not even appeared for the Matriculation exam, so Gandhi's crossing that significant hurdle was framed as an impressive leap. From a psychological perspective, perhaps the family's glorification of his ordinary record helped keep his confidence intact.
He Dropped Out of His Indian College After a Disappointing First Year
In 1888, he registered to do a B.A. degree at Samaldas College in Bhavnagar, Gujarat. As Guha recounts, inside its environs, "the newcomer had particular difficulty with algebra. Once, when the mathematics teacher asked him to come to the blackboard and solve a sum, Mohandas pretended not to hear."
His achievements in his end-of-term college exams were lackluster again. He appeared only for four out of seven papers, but even in those, he didn't display any outstanding talent. "In English, for example, he got a bare 34 percent." So, when a family friend suggested he withdraw from Samaldas and head to England to pursue law, Gandhi felt strangely attracted by the prospect.
He Defied Social Taboos to Embark on A Foreign Adventure
Since crossing the seas was strictly forbidden to members of his caste, he undertook stern vows to abstain from wine, meat and extramarital relations, to appease his mother, the devout Putlibai. (Gandhi, was already married, to the young Kasturba by then.) At Mumbai, from where Gandhi was to set sail, he was ostracized again by the Modh Banias of the city. Despite his vow to abstain from all evils, the "elders were umoved." Yet Mohandas stayed resolute about embarking on his foreign voyage.
At England, he Studied at The Non-Pedigreed Inner Temple
Though Gandhi and the Indian Independence movement can be found in history curriculums at the Ivy Leagues and at Oxford and Cambridge, Mohandas himself did not study at any of those pedigreed places. At England, he registered at the Inner Temple, one of four Inns of Court, that prepare students for the Bar Exam.
Learning the Nuances of British Culture and Mannerisms Was A Critical Component of His Education
Given the heightened imperialism of England in the late 1800s, one of Gandhi's key learnings included nuances of British manners, lest he make embarrassing faux pas in social encounters.
For instance, an acquaintance from Gujarat, Pranjivan Mehta, was one of the first to tutor him on the basics. When Mehta visited Mohandas at the Victoria Hotel, Gandhi picked up Mehta's hat and started fiddling with its felt material. At once, he received an abrading look from the visitor. "Do not touch other people's things," he was told. "Do not ask questions as we usually do in India." He was taught other ways to maintain a psychological and social distance that must have been foreign to the close family setup he was reared in.
Many of His Learnings Were of a Practical Nature
Like for other Indian students abroad, many of his character-shaping lessons were of a practical nature. For instance, he was very particular about remaining staunchly vegetarian in the UK. This stemmed from his strong emotional attachment to his mother and also perhaps, from the guilt foisted by members of his caste. One of his critical undertakings in London was to locate vegetarian restaurants, of which, astonishingly enough, he found two: "One on Farringdon Street, another in High Holborn." He also invested in a portable stove, and in other ingredients to keep within the strictures of his abstemious vow. In Gandhi's case, such a personal obsession with his diet and food was to later acquire political overtones, when he embarked on fasts as a means to control crowds or inspire social changes.
For the first time in his life, he also needed to estimate expenses and to seek funds from various sources. He even wrote letters to British administrators in Porbandar, though his pleas were ignored. Such skills, although they seem pedestrian, were for him, critical to his future political organizing and campaigning.
As A Student, Gandhi Was Very Fastidious About Dressing In the Appropriate British Style
Given that the iconic image of Gandhi often depicts him in his simple, cotton dhoti, it is fascinating to learn that as a student, Mohandas was very particular about dressing according to British norms. The Inner Temple, where he was enrolled, also imposed a "strict dress code." Moreover, once in ten days, students were enjoined to participate in a formal sit-down dinner, for which they were asked to wear gowns. As Guha puts it, "Mohandas took the code very seriously." Even on other days, he fussed greatly about his top hat, his starched collar, his silk shirt, his dark trousers and leather boots, clearly eager to fit into the stiff Victorian environment.
One realizes that his later adoption of a farmer or villager's spare clothing was a wildly theatrical gesture. Besides intending to win over the hearts of the most marginalized, he must have been cheekily conscious of the loin cloth being a strong, symbolic rebuke to the British.
His Extracurricular Participation In the London Vegetarian Society Was Critical To Building His Self-Confidence
A voluntary experience that was to shape him immensely was his membership and involvement in the London Vegetarian Society. As a nervous immigrant into the alien British terrain, Gandhi was perhaps surprised and heartened to discover a group of native Britons who chose to become vegetarian. This association changed Gandhi's relationship with his own food choices. Till then, according to Guha, "he had been vegetarian by custom and tradition." But after reading A Plea For Vegetarianism by Henry Salt, a British author, he declared himself "a vegetarian by choice." Interestingly, the author Salt himself was unaware that the origins of the movement he was advocating was inspired by encounters between Greek travelers and Hindus who inhabited the subcontinent. The origins of the diet had been obscured over generations, so that Salt's plea seemed like a European idea, shared by a few marginal followers, that happened to find echoes in Gandhi's culture.
Besides validating an aspect of himself, the Vegetarian Society also promoted inter-racial friendships and allies, prompting Gandhi to recognize that Indians and the British could work together to promote common causes. For instance, a roommate called Josiah Oldfield joined Gandhi to conduct public lectures at various places, advocating for vegetarianism.
Much Of His Formative Reading and Writing Was Outside the Curriculum
Based on a recommendation from a friend at the Vegetarian Society, he started reading the New Testament, and was moved in particular by the Sermon on the Mount, especially by its injunction to offer one's cloak to the person who has stolen one's coat. He also wrote persuasive essays for the The Vegetarian, articulating the hope that differences between grain-eaters and meat-eaters would shrink to uncover common ground.
Drawing Lessons from Gandhi's Education
Gandhi's prophetic imagination emerged despite or even because of his rather ordinary educational achievements. For one thing, the Mahatma never cared to wear the pretensions of a scholar or intellectual. In letters exchanged with the poet Rabindranath Tagore, he was the first to acknowledge the simplicity or plainness in his writing, and the lack of poetic cadences or special eloquence with words. Yet, he interacted with the world through his earnest essays and heartfelt arguments, deploying every aspect of himself, including his body, his diet, his disciplined tasks and his silences to win over opponents.
Given that modern corporates in India relentlessly categorize people based on fleeting performances on past exams, or by their admission into certain colleges or programs, it is discomfiting to note that someone with Gandhi's record (and transcendental genius) might be filtered out of recruiting systems. Organizations should treat educational attainments as only one dimension that may not wholly capture the potential of the person being assessed. And to question, like the Mahatma always did, prevailing social constructions of 'merit'. If not, education merely morphs into a new form of colonialism, requiring a new-age, uneducated Gandhi to call out its oppressive aspects.
Bibliography:
Guha, Ramachandra, Gandhi Before India, Penguin Random House India, Gurgaon, 2013