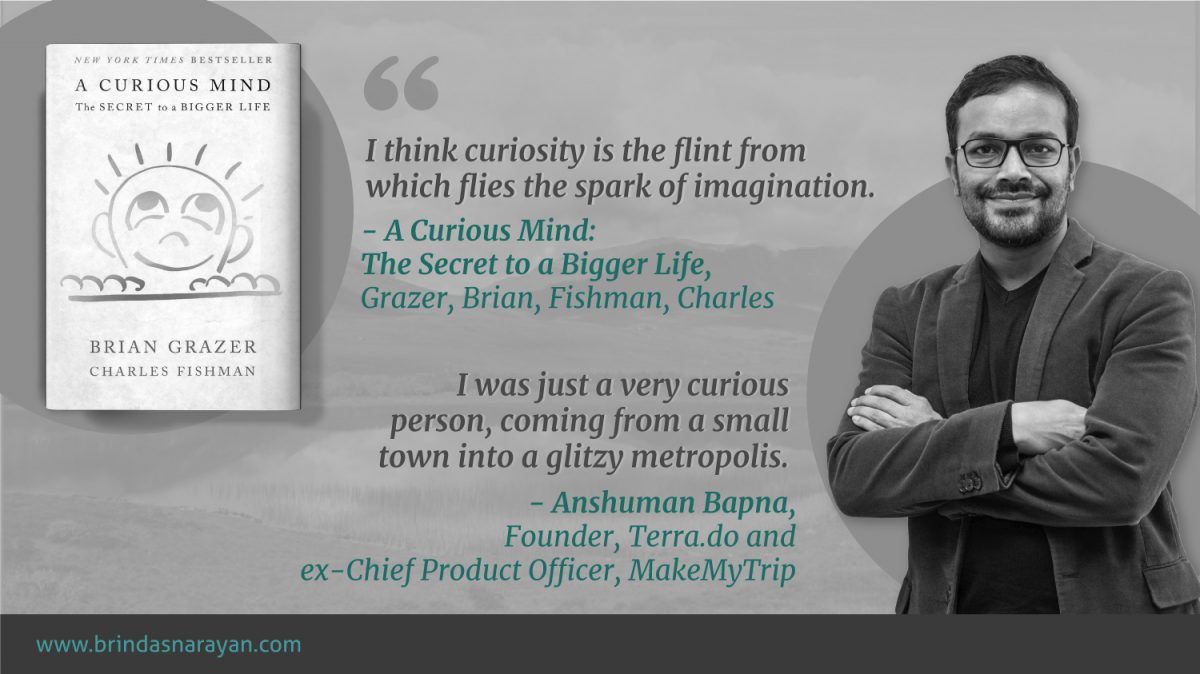 Broadening Horizons with Curiosity: Anshuman Bapna, ex-Chief Product Officer, MakeMyTrip and Founder, Terra.do, Widens His Impact.
Monday, May 25, 2020
Anshuman Bapna: Forges an Enviable Life-path
In early Feb 2020, who could have imagined a café conversation between Anshuman and me would soon acquire the otherworldly glow of an irretrievable past? At the hip Terra Bites in Koramangala, a drum near the window displayed a message scrawled with a black marker: "We Are Open." Even in the fourth phase of the nation's lockdown, that sign feels as tantalizingly invisible and wickedly beckoning as Platform 9 ¾ at King's Cross Station (from which Harry Potter and his wizard friends depart to Hogwarts). Though still donning a pre-brunch quiet, the rough-hewn, exposed bricks on walls, the wooden tables, the plasticky creeper and inspirational books: The Greatness Guide by Robin Sharma, Count Your Chickens Before They Hatch by Arindam Chaudhuri, You Can Win by Shiv Kera – seemed to await caffeine-spiked, startup dreams.
Anshuman Bapna, the ex-Chief Product Officer at MakeMyTrip and the Founder of the recently-launched climate-change platform, Terra.do, speaking briskly to a distant voice with plugged earphones, bounded in with the kind of pizzazz and pep that such spaces were hoping to foster. Raised inside spartan material circumstances across small towns in the Hindi heartland, Bapna embodies the new-age Indian dream: an IIT degree, the early flashes of an entrepreneur's verve, a Stanford MBA, work experience at premium Technology and Consulting organizations, more founder stints and coveted exits. Besides his lightning-quick fluid intelligence (also demonstrated by his impressive #231 All-India-Rank on the IIT-JEE), he exudes the kind of sparky curiosity that Brian Grazer lauds as a critical 21st Century trait.
A Curious Mind: Curiosity pitches Grazer into Hollywood
Brian Grazer admits that he is an unlikely candidate to write a book on curiosity. After all, he's not a scientist or journalist – people whose vocations demand a certain level of curiosity. He's an Oscar-winning Hollywood producer, the creator of epochal movies like A Beautiful Mind, Apollo 13, Splash and Liar Liar, among others. His memorable TV shows include 24, Parenthood and Friday Night Lights.
For someone whose creative vision has led to so many enduring works, it's startling to discover that Grazer vaulted into his career almost by accident. After graduating from USC, he was planning to enter law school in the fall. While ruminating on his future, he happened to overhear a conversation among strangers from the open window of his apartment. Some guy mentioned that he had just quit a rather plum job at Warner Brothers. Incorrigibly curious, Grazer opened his window wider, and shut the curtains. The chap went on to say that he had been working for someone called "Peter Knecht" as a "legal clerk." Immediately, Brian hunted down the Warner Brothers main telephone number, and dialed it. He told Knecht's assistant that he was interested in the legal clerk position that had just opened up. A surprised and perhaps equally curious Knecht asked to meet with Grazer at 3 p.m. By, 3:15 p.m., Brian was hired to occupy a small "windowless" closet-sized space inside Warner Bros. He never quit show-biz since then.
Curiosity wasn't just the trait that netted his job. It has also fueled his work and self in profound ways. He describes his own curiosity as being "a little wide-eyed" and "sometimes a little mischievous."
Anshuman Bapna: Discovers Wells of Resilience
An impish interest in everything and a steely resilience also seem to characterize Bapna's journey across life. Born in the late 1970s to two doctor-parents who were employed by the Government, Anshuman's early years were spent in Tilhar, the oldest town in the Shahjahanpur District in U.P. In the absence of any viable schooling at Tilhar, a four-year-old Bapna was dropped off at a hostel in Lucknow. At an age, when most middle or upper-income kids were being cosseted inside nuclear or joint families, he was already washing his own clothes, making his own bed and contending with the complex emotional nuances of a hostelite's experience. Understandably, the initial months were traumatic: "Whenever my Dad dropped me off, I would be howling and dredge up various excuses to bring him back."
But after six months, the little Bapna had "mastered the situation." Realizing that the fortuitous day scholars carried more appetizing foods than the stuff being dished out to boarders, he helped himself to treats from their boxes. "Once, when we were lining up for the music class, I stole peeled oranges from a friend and stuffed them in my pocket. Then when we had to sit on the mat to learn music, the oranges burst and I was embarrassed. It was a pretty rough two years, but really toughened me up at an early age."
Though he moved back with his parents for Standard I at a school in Bareilly, he was overwhelmed by a new curriculum and the sudden switch to an English-medium environment. He flunked the first grade, and was incensed with himself. Demonstrating an unusual determination at such an early stage, he kept himself awake through many nights, till he had caught up and even overtaken his peers. His more striking memory of that period is the belief his parents reposed in him. Despite his move and academic torment, they trusted him to figure it out.
He also has fond memories of a formative companionship with his spirited maternal grandfather, Hukum Raj Mehta. As a freedom fighter who had been imprisoned at 16 for hurling a bomb at court, Mehta had also dallied with communism and even trounced Jawaharlal Nehru in a debate. Modelling an adventurous derring-do, that his grandson would echo in different realms, Mehta travelled to Eastern Europe, with a few wares packed into a box. Between working at sundry jobs, he occasionally hawked his Indian trinkets on market squares, to finance his stay.
A Curious Mind: Grazer Consciously Cultivates Curiosity
Unlike Anshuman, Brian wasn't an academic star at school. Grazer shares that he suffered from undiagnosed dyslexia. As the condition had not yet been labeled when he was growing up, and not treated till many years later, he suffered through the tribulations of many "Fs" at elementary school. But he too was inspired by a grandparent, his "classic 4-foot-10 Jewish grandmother", who spotted the potential in Grazer despite his failing grades. She said 'You're curious. Your curiosity is good. Think big!"
Even as a successful producer, he still engages in what he calls "curiosity conversations." He realized that he did not need to confine himself to the movie business. He could talk to anyone he was curious about. He organizes at least a dozen "curiosity conversations" a year, each lasting an hour.
He has interviewed two CIA directors, Carl Sagan, Isaac Asimov, "the richest man in the world," Oprah Winfrey, Barack Obama, Jonas Salk – the inventor of the polio vaccine – and even people he feared or didn't want to meet. He had a long conversation with Sheldon Glashow, the Harvard particle physicist who won the Nobel Prize in 1979. Glashow was as interested in the movie business as Grazer was in particle physics. So, the Professor, then 72, flew out to L.A., where Grazer and he engaged in lengthy four-hour conversations, sharing the insights each one had, about their startlingly different vocations.
Grazer also says that since Hollywood can often have an inflated sense of itself – after all, it is filled with stars, and there are large sums of money at stake for each film or show – his curiosity is a mechanism that tugs him back to the real world. When you start living inside a make-believe capsule – whether that self-enclosed world is a particular industry, or showbiz – you lose the textures of real stories, unfolding everywhere inside ordinary, less celebrated lives.
Anshuman Bapna: Propels Himself into IIT
Growing up in places that did not fuel such wide encounters, during his 11th and 12th grades in Saharanpur, a town smaller than Bareilly, Bapna wasn't sure about where his future interests lay. Since his older brother had been admitted to IIT BHU, and an Engineering degree seemed like a pragmatic gateway into larger terrains, he opted to use a gap year, after his 12th Grade exams, to prepare for the daunting JEE.
While he did sign up with a coaching center at Delhi, as he embarked on his train ride to the capital, he flung his bag and books into a train compartment, intending to climb into the next car, but missed the train. With that early loss of all his academic materials, he eventually decided to tackle the exam with intense self-study. "That one year was formative, realized so much about myself. I realized that I could get super nerdy and that I really enjoyed studying."
Eschewing the commonplace coaching materials, he turned to imbibing well-written textbooks, like Resnick and Halliday, and Feynman's Lectures in Physics. Books like those by Feynman stirred a genuine interest in the subject. He also remembers wrestling with handbooks penned by the Russian physicist, Igor Irodov, who dangled single-word solutions to complex problems.
Bapna figured that he wasn't the kind of student who could confine himself to a prosaic desk and chair. So, he created a more challenging bunker for himself, a cave-like space that he could enter after crossing a series of physical challenges. To keep the enchantment alive, he ventured into unconventional outdoor spaces, like atop a tree, or by the water tank on his terrace.
His Desi street smarts, combined with outstanding source materials and all the other meta study practices, led to his remarkable JEE rank, with a 100% in Organic Chemistry, a subject he "hacked" into only two weeks before the exam.
In typical IITian tradition, his social adroitness was tested almost at once. When the results were posted at the IIT Delhi campus, a rapturous Anshuman was turning away from the board, where his roll number had been awarded the All India Rank 231. Noting the discernible thrill in his expression, a few waiting Seniors beckoned him with a menacing, "Come here." Bapna knew he was going to be ragged, so he pretended his father was waiting at the gate. Sensing that he planned to evade them, the Seniors said, "Don't be too clever, leave your bag here." In a few minutes, a crestfallen Bapna returned from the gate, claiming he had the roll number all wrong, and hadn't been admitted after all. As fate would have it, one of the waiting Seniors was to bump into him later, at the IIT Mumbai campus, where they ended up forging a lifelong friendship.
A Curious Mind: Grazer Deepens His Insights on People
Grazer consciously uses such stories to deepen his own understanding of characters. Through the singer, Sting, who was working for Amnesty International, Grazer was introduced to Veronica de Negri, a human rights activist in Chile, who had been incarcerated and tortured by Pinochet's forces. Through most of her imprisonment, they had blindfolded her and then tortured her at unpredictable intervals – sometimes after an hour, sometimes after three days. She recalled later, that it was the uncertainty, more than anything else, that kept her in a heightened state of fear. de Negri also impressed Grazer with her dignity and resilience, despite the horrifying experiences she had been subjected to. It gave him a sense of "a whole set of human qualities and behaviors" that he would have never encountered, if he hadn't spent time talking to Veronica.
She offered him an insight that might hold for any human being, in any extreme situation: "The only way to persevere is to have the capacity to calmly separate yourself from what is being done to you." In the movie, Apollo 13, the astronauts lost control of the spacecraft, but they had to will themselves out of obsessing with their life-and-death situation, of the seeming impossibility of getting back to earth alive, and focus on steering their craft to safety.
Anshuman Bapna: Sparks an Entrepreneurial Culture at IIT
Mumbai opened up new worlds to Bapna. At first, he was shocked by the phenomenal talent he encountered at IIT. As a persistent topper during his school years, he realized that some of his classmates had the kind of academic abilities that would be impossible to "beat". Besides, he did not want to limit himself to just studying all the time, when the campus and the larger city glinted with new possibilities.
Cities like Mumbai, with their density of experiences and multicultural interactions, have often stoked the creative instincts of curious entrants. Anshuman, whose senses were fired by the diverse allures of India's commercial and entertainment center, soaked it all in. "I was like a kid in a candy store. I went to shows, plays." Never having witnessed theatre at Bareilly or Saharanpur, he still recalls the poetic economy of a performance that featured Naseeruddin Shah and Boman Irani, playing two old Parsi men sitting on a bench.
Foraying frequently into the city, he ventured into auto shows, exhibitions, gleaning that IIT was a microcosm within a larger macrocosm, where different rules held sway. For instance, at IIT, excelling at the Humanities was disparaged, echoing the mainstream culture's emphasis on practical, quantitative skills. In his Humanities Course in the first year, which covered Thomas Kuhn's Structure of Scientific Revolutions and other sociological tracts, Bapna topped the class. Though his peers dismissed that Course and its contents, Bapna sensed an equal respect being accorded to the Arts, at the theatres and museums,
Keen to explore extracurricular activities, he volunteered as a "freshie" with Mood Indigo, the music festival. For the Pentagram band, fronted by the singer, Vishal Dadlani, he hauled a drum set into a fancy apartment. Till then, having only encountered shuttered lifts inside the towns he had grown up in, Anshuman was bewildered by an automatic lift, with its seamless steel doors. After placing the drum set inside a lift, he thought the equipment had vanished when the lift moved down. When Dadlani asked for the drums, Bapna was completely flustered by their inexplicable dissipation. Soon, however, they found the drums at the basement, where a security guard had retrieved them from the lift.
At the end of his second year, when a roommate asked him about future plans, Anshuman realized he wasn't drawn to the idea of an IIM MBA or a Master's in the U.S. – the typical trajectories of most students then. In the meanwhile, dotcoms were flourishing in the U.S., lifting the NASDAQ to giddying highs. The entrepreneurial stories had started drifting into India, and Bapna was among the early converts: "Netscape had already started in the valley, and that wave was hitting our shores. In the 3rd year, I started bunking classes, started finding VCs."
Astutely tuned into the social and business landscape – both in India and in the Valley – Anshuman discovered that Rakesh Mathur, one of the famed founders of Junglee, a company that had been successfully sold to Amazon, was visiting IIT to meet with the Director. When Bapna tried to persuade the Director's office to permit an interaction between Mathur and students, he was met with bureaucratic shrugs. But he was tenacious. Displaying the kind of enterprise that most investors seek, he stuck posters of Rakesh Mathur across the campus and booked the lecture room, for 400 attendees at 4 p.m.
Accosting an unprepared Mathur at the Director's office, Anshuman requested him to stay back and address students. At first, Rakesh refused: "No, I have a flight to catch." But when he saw the poster and was told about the 400-strong gathering awaiting his insights, he laughed: "Ok, I'll miss my flight." The young audience comprised many of the nation's future founders, or contributors to key startups, including Maninder Gulati, who is currently the Chief Strategy Officer at Oyo Rooms.
The meeting with Mathur spurred Bapna to launch a new lecture series at IIT Mumbai – titled "Enterprise" – drawing in entrepreneurs, VCs and academics to fuel budding startup ideas. Invitees included the suave Kabir Mulchandani, the electronics and real-estate tycoon, who was dressed in an all-white suit. The legendary Rakesh Jhunjhunwala, referred to as the Indian Warren Buffet, was also a speaker. Besides real "tips," students also grasped how glamorous the startup ecosystem could be. Beyond the lecture series, the energetic Bapna also initiated a business-plan competition titled "Eureka!", a challenge that continues to inspire young IITians in its 21st year. To further catalyze student startups, he started E-cell, a unit centered around promoting IIT enterprises. Soon the idea of the "E-cell" spread to other IITs: "Minds are so combustible, it was like a conflagration after that," Anshuman says.
Besides seeding the larger ecosystem that was to foster innumerable IIT startups, Bapna started his own company during the fourth year. The broader culture was not yet attuned to the creative potential of these enterprises: "The profs would say, 'Look at these degenerate business kids roaming around our hallowed academic corridors.'"
Co-founded with two other classmates, Kashyap Deorah and Mayank Jain, their company, morphed from its original avatar into a platform titled RightHalf.com. The startup intended to garner creative digital content – like a photograph or a piece of music – and sell it in other markets. Since they didn't have their own computers, they cajoled Professor Phatak, who headed the Computer Science Department, to permitting their use of a couple of the machines inside the IIT computer lab. To hog the computing capacities of their skeletal assets, they often slept by the machines through nights, keeping a watch from sleeping bags.
When Rakesh Mathur visited the city later, with Nandan Nilekani, he invited Anshuman and his team to pitch their idea to himself, Nilekani and Professor Phatak, who planned to incubate businesses inside IIT. The meeting was held at the Ambassador Hotel, the city's famed revolving restaurant. Lugging the heavy computers from the IIT lab (the team did not have any laptops yet), they discovered that the lifts inside the building were not working beyond a few floors. Nilekani too assisted with physically carrying the computers to the topmost floor.
Since Mathur was already prescient about the pitch being one of many to come in the nation, seething with untapped potential and ballooning ambitions, he had also invited the New York Times reporter, Celia W. Dugger to report on the event. Before Bapna and his mates could fathom the import of such coverage, they found themselves featured on the front page of The New York Times (https://www.nytimes.com/2000/02/29/world/return-passage-to-india-emigres-pay-back.html). As Anshuman puts it: "And of course, the media circus just took off after that. We had CNN and BBC do a segment on us. We'd return from a football game, and Zee Studio would be waiting to interview us." They raised $250,000 from that widely-reported meeting, but suffered through the inevitable conflicts and burnout that affect most founders, under pressure to meet investor expectations and surmount market challenges. Nonetheless, in a couple of years, the young team successfully sold their enterprise to the California-based Stratify, where Bapna worked for six-months.
He then returned to India, and married his high-school crush, the feisty Tulika Majumdar, who was won over after a fairy-tale romance. Soon, he was admitted to Stanford for his MBA, while Tulika pursued a Master's degree there. The ever-curious Anshuman however wasn't content with just his Business courses. In addition to the demanding MBA program, he also studied Mandarin, took a year of courses in Medicine, six months of Law and six months of International Diplomacy. All this in addition to mastering Fencing, working at the student newspaper and "95 different things."
Later, even as he worked at a consulting job in New York, he founded an India-based non-profit to bridge the digital divide. After a two-year stint at Google, and the birth of a daughter, Anshuman and his family returned to India. This time, he cofounded another startup called Mygola, that he ran for four-and-a-half years with his partners. The peaks and valleys of running the business have been captured evocatively in Bapna's conversation with Amit Somani from Prime Venture Partners (https://primevp.in/content/podcast/anshuman-bapna-serial-entrepreneur-going-through-pivot-acquisition-and-dealing-tough-times/).
Despite being on the brink of closure, Anshuman and his co-founders demonstrated the kind of grit that marks out finishers in the grueling startup world. Persisting with his relentless optimism and salesmanship, he eventually had six companies offer term sheets to acquire Mygola. The enterprise was sold to MakeMyTrip and Bapna was appointed the Chief Product Officer, a role he played for four years.
Very recently, Anshuman has quit MakeMyTrip to found a third venture – a climate change platform and bootcamp, Terra.do, where he aims to foster a dynamic network of climate champions. At a stage in life, where he's also seeking to deepen his social impact, this enterprise taps into his wide-ranging interest in the world, while fueling meaning.
References:
A Curious Mind: The Secret to a Bigger Life, Grazer, Brian, Fishman, Charles, Simon & Schuster, New York, 2016.