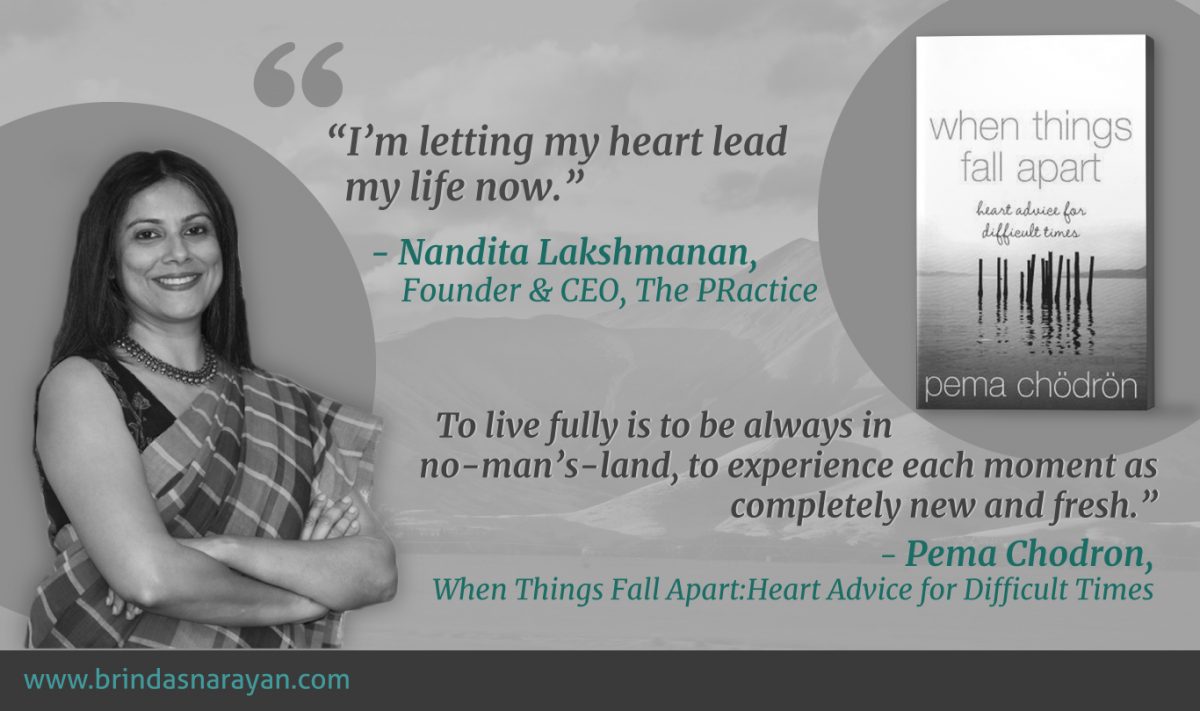 Using a Crisis to Deepen Oneself : Nandita Lakshmanan, Founder & CEO of The PRactice, Excavates Meaning From Setbacks
Wednesday, April 22, 2020
Pema Chodron: Abiding With Fear
Few people, if any, can predict the exact contours of the world when we emerge from the ravages of the Corona virus. But the sudden ceasing of sights and sounds we were accustomed to – the hubbub at a café, the squeals of swerving buses – have reinforced the underlying fragility of everything. It's heartening then, at such a time, to absorb lessons from Pema Chodron, a Buddhist monk, whose forays into spirituality were driven by a sense of groundlessness in her own life. Pema even welcomes trouble and suffering, as invitations to deeper searches: "Chaos should be regarded as extremely good news."
She warns us, whether we're novices or experienced practitioners in any spiritual practice, we're likely to contend with fear. Chodron narrates the story of a man who journeyed to India in the 1960s, to tread on a spiritual path. While he contended with many negative emotions like anger, lust and jealousy, the emotion that bothered him most was fear. His teacher then asked him to retreat alone into a cottage located on the foothills of a mountain.
One night, inside the cottage, which was lit only by candles, he spotted a snake watching him from a far corner. In the meanwhile, his candles were dimming one at a time. He continued to watch the snake with hyper-vigilant fear and as the last flame dwindled into darkness, he started crying. Strangely, at that moment, he was no longer crying with fear, but with tenderness – with an appreciation for how precious his own life was, and for how much he shared with all other beings on the planet. He then fell asleep and woke up to a changed self, with most of his fear having vaporized.
Chodron says such visceral brushes with negative emotions like fear, distress and sadness are opportunities to discover new wells of resilience and courage in ourselves. "When things fall apart," like in the current crisis, we are compelled to live in the present.
Nandita Lakshmanan: Cultivating Self-Reliance From An Early Age
In her demeanor, persona and in her strikingly non-judgmental recounting of her life, Nandita Lakshmanan exudes qualities that most of us strive to possess: elegance and grace. Known to eminent technology leaders as the Founder of the iconic Bengaluru-based public relations firm, The PRactice, Lakshmanan has also, with an enviable panache, weathered the kind of life-storms that Chodron describes in her book: single parenting, separation, the death of an ex-partner and the loss of a parent, all in the short span of a few months. Fortunately, her childhood and early adulthood had imbued her with a steely self-reliance, a quality that was to be mined when the ground gave way.
Clearly drawn towards languages and literature from an early age – she possesses a Master's in Literature and the highest diploma from the Alliance Francaise in Delhi – Nandita's artistry with words was partly fostered by her upbringing. Her father, was in the early years of our independent nation, a journalist, whose career spanned media organizations such as the UNI, the then National Herald, the Washington Post and the Hindustan Times. She recalls that he would start his mornings by reading eight newspapers and then tune into the BBC News on the radio.
With her childhood set in pre-liberalization India, she was accustomed to material sparseness. Growing up in the artfully planned Press Enclave flats in Delhi, where the open spaces and network of pathways facilitated community interactions, she treasured simpler joys: after-school playtime with friends, devouring books. While her family occasionally tided over financial stresses, she recalls with gratitude that there was always food on the table.
She also belonged to a generation that could rarely feel entitled to anything. For instance, if she missed her school bus, she needed to walk to school. No alternative transport was even conceived of. Her family did not own a television till the late eighties, when she was already in college. With the typical middle-income upbringing of the 1970s and 80s, she gleaned the valuable lesson that "only basic necessities matter." Learning to be content with little imparted a fiscal discipline to the manner in which she ran her business later.
Her parents, while being intensely supportive of her education and independence, did not obsess about her future. Nor did they impose career expectations, which in hindsight, she cherishes as a license to craft her own life.
To bolster her personal finances and fund her college education, she tutored a neighbor's kid from the age of 16. She guided the student through his education – from his 4th Standard till his 10th Standard. In addition, displaying an entrepreneurial spark that was to stay with her in the future, she landed a job at the All India Radio right from her first year at college. Early mornings, from 5 a.m. to 9 a.m., she worked as an announcer in the Yuvavani segment, and scurried to college thereafter.
She stuck with her radio stint through her undergraduate and postgraduate programs, and even later, while at her first job at Genesis PR. She imbibed the discipline and precision involved in running radio programs, "sitting in the studio with just a clock, conscious of how every microsecond mattered." It was a training too in attention; for instance, one can't launch an ad even one second later than the scheduled time-slot. She was also responsible for the program's content, for scripting and managing the entire show. Having schooled herself in the burgeoning medium, she operated the country's first ever FM radio channel.
In 1993, when she walked into the Genesis PR office, she was already familiar with the inner workings of radio, and had an intimate view of the journalistic world from her father. Within a couple of years, Prema Sagar, the Founder of Genesis, recognizing Nandita's gumption and enterprise, entrusted her with starting the company's Bengaluru branch in 1995.
Living on her own, and running the operation in the nation's emerging IT nerve center, Nandita relished her autonomy. Driving around the new city in her car, she was once accosted by men with iron rods but managed to evade her attackers. Another time, she fractured her knee while walking on the road. She only alerted her parents when the situation was under control.
Pema Chodron: Cultivating Compassion for the Self
Chodron stresses that we are often too harsh with ourselves. If we cannot start by forgiving ourselves for being what we are – warts and all – how can we begin to forgive others? The Sanskrit word for loving-kindness is maitri. She says the difference between "maitri" and other forms of self-improvement, is that we are not trying to conquer pain or improve some other aspect of ourselves. The process involves "giving up control altogether and letting concepts and ideals fall apart."
Ironically, "letting go" requires effort. To build such stillness, her teacher Trungpa Rinpoche taught a meditation technique called "shamatha vipasyana" – which involved letting go of thoughts and accepting the mind in its open state. He also suggested focusing softly on the "out-breath" so that students had an object to work with. Pema says, "I'd heard Zen teachers talk of meditation as the willingness to die over and over again."
Nandita Lakshamanan: Evolving into the Founder of an Iconic PR Company
Cultivating self-compassion entails permitting the self to unfold as it wishes to. This process is often fueled by moments of self-discovery. Lakshmanan was to discover, fairly early in her career, that she wanted to create her own enterprise.
While still at her first job in Genesis, Nandita had worked with many technology stalwarts during that period. Her inventiveness spawned the corporate narratives of companies like Digital, Sun Microsystems and Intel.
Around then, when she quit Genesis to scout for other opportunities, clients expressly wished to tug her back into their accounts. Not compelled by the idea of another job, she decided to found her own company. The PRactice, created in 2000, launched Acer in the Indian market. The company's marquee client was won at the end of that year.
The PRactice Wins Infosys and Builds a Formidable Brand
Though the recently-founded PRactice was a small firm pitted against much bigger companies, the young team, spearheaded by the high-spirited and feisty Lakshmanan seemed to appeal to Narayana Murthy and other members of the Infosys board. Moreover, The PRactice team's razor-sharp pitch had been calibrated for last-minute tweaks. While they had been told to prepare a 30-minute pitch, Nandita had warned her team to rehearse a pruned version. She knew, from previous interactions with Senior people, that allotted times often shrink. "If you have Senior people attending, we often knew, they walked in late." Suddenly asked to compress their pitch to half the original size, the nimblest and possibly most animated team was well-prepared. They ended up shaping one of India's epochal IT brands.
Despite representing some of the city's swankiest companies, The PRactice never lost sight of its founding philosophy. Nandita ensured that every client was accorded the same degree of commitment and respect: "I had a philosophy about retaining clients, not losing them."
The organization was also conspicuously flat before the term inundated business-magazine vogue: "We didn't have designations on visiting cards." Moreoever, as a woman Founder, Nandita was acutely sensitive to parental needs. As early as 2002, the company granted a four-month maternity leave. Till kids reached the age of two, timings for new mothers were shortened.
Pema Chodron: Stay Curious In Negative Situations
According to the Buddha, immersed in seeking only positive feelings, we get entrenched in samsara. And strangely enough, the self that is trying to protect its well-being is a false construct. It does not even exist. So, Pema urges us, that in midst of various storms and tempests – whether such situations are induced by work or family – to examine our thoughts for what they are: just thoughts. And to let them dissolve.
Instead of being carried here and there by negative thoughts, we ought to examine them with the inquisitiveness of a child. The idea is to stop fearing pain and to stop clinging on to pleasure. When we start being curious about such states, we are equally accepting of others, when they get bitter and resentful during painful periods, or when they become conceited and complacent during times of pleasure. We start realizing that other people are just like us: driven by the primal instincts of hope and fear.
Nandita Lakshmanan: Withstanding the Sturm and Drang of Life
While brushing off the label "Founder," Lakshmanan prefers to position herself as an employee of The PRactice. And like any other employee, she acknowledges with a beguiling humility that there were periods when she disliked the work and the organization. "There were times when the work felt substandard, when there were errors in things." She also feels that current social forces tend the overplay the term "entrepreneur." Too obsessed with one's role as a Founder, can also hamper one's necessary detachment from the business during its inevitable dips.
After running The PRactice for fourteen years, in 2014, Nandita decided to quit. Moreover, it was a difficult period for her personally. On the same day that she signed her divorce papers with Sharan, her husband of fifteen years, she ceded her position in the company she had successfully birthed and steered. Though Sharan and she parted on very amicable terms, as friends, and agreed on joint custody of their son, Aryaman, the teenager was to move in with her.
While Nandita had always relished motherhood for yanking her back to small pleasures – the joys of cooking, meandering conversations about anything and everything – she recognized the need for emotional anchors during this fraught period.
From 2007, she had started learning Hindustani vocal music. Her music lessons with Pandit Govind Rotti, a one-time disciple of Pandit Bhimsen Joshi, were a source of solace. "There was so much joy in becoming a student, in being someone who is just learning, when all along you've been at a Senior position, and everyone thinks you know everything." While the Guru persisted with repeating notes till Nandita got them right, never admonishing her for mistakes, she found that she was improving with practice. Moreover, the Guru himself was like a father-figure, whose dependable arrivals into her new home, bridged the past with the present. But he too passed away within four weeks of her new life.
Strangely, she seemed to enter a terrain where deaths and ill-health permeated her life. In a short period, from 2014 to late 2017, she witnessed the deaths of her father-in-law, who had been a bulwark through her marital and Founder years, of her father and of her ex-husband, Sharan, who had been diagnosed with cancer in early 2016. She was also conscious that her son Aryaman had lost all the male role-models in his life, in quick succession. While navigating through unfamiliar emotional geography after physically and psychologically bolstering her father, and emotionally supporting her ex-husband through his terminal illness, she accorded herself "the space to deal with the deaths." She also cultivated practices like Vipassana and solitude to heal her psyche. She turned to works that dwelt on death, grief, healing, and the ego, including books by Thich Nhat Hanh, to recover from grief and trauma.
Pema Chodron: Using Each Moment As a Teacher
As Chodron says, when setting out on any path, there will be an expected gap between reality and our ideals. While we might want to stay open-minded, calm and compassionate, certain situations will test our abilities to remain that way. And we are likely to fail again and again. Like most human beings, we will be bored, stressed, irritable, angry or bitter. Rather than escape or evade such uncomfortable moments, she suggests that we stay with the discomfort and face it head on. Pema says, "Right there in that inadequate, restless feeling is our wisdom mind." The more the situation makes us feel like the ground has disappeared beneath us, the more it can teach us.
Nandita Lakshmanan: Returns to Lead The PRactice Into New Terrains
Currently, Nandita has returned to The Practice as Founder & CEO, and is leading the team into new, purposeful directions. Her son, Aryaman will be heading out to the U.S., for his undergraduate degree. As someone who has consciously followed her heart from the 20s, she continues to channel her energies in directions that harness her talents and passion. She also derives wisdom from her life experiences: "I have learned to accept whatever comes my way."
References:
Chodron, Pema, when things fall apart: heart advice for difficult times, Thorsons Classics, Harper Collins, London, 2017 (first published in the US by Shambala Publications, Inc. 1997)