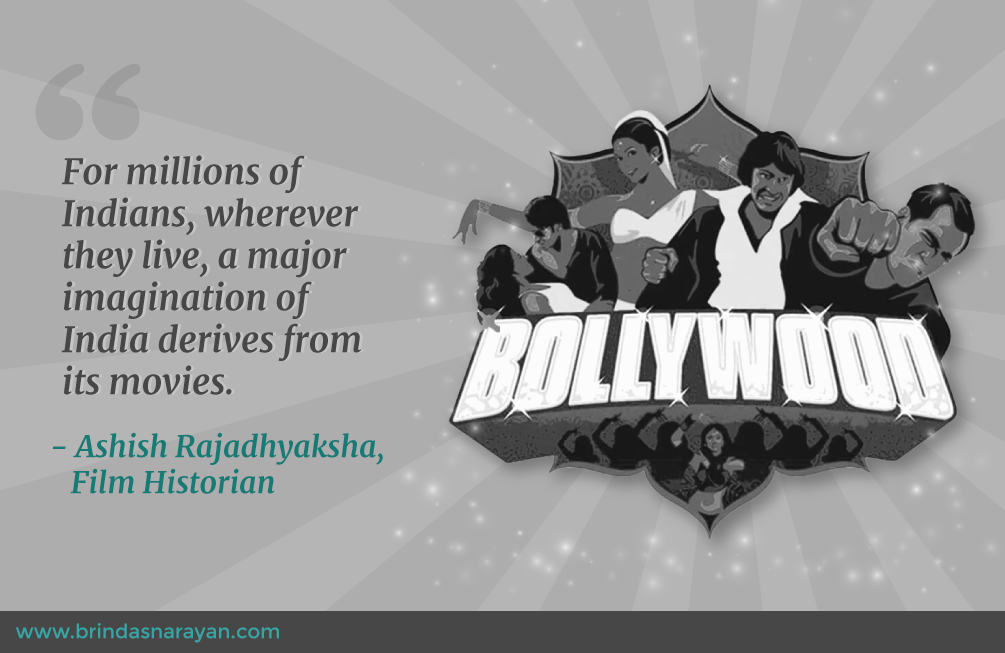 Design Thinking and Beyond: What Bollywood Can Teach You
Sunday, September 16, 2018
Develop your own unique idiom
Right from its inception, Indian cinema has always resisted the imposition of other sensibilities. During the colonial era, British rulers often attempted to manage and control the cinema to service the Empire's aims. They were, in fact, explicitly afraid of the cinema's influence over illiterate viewers who flocked to the theatres in numbers that overwhelmed newspaper and book readers. But even post Independence, cinema continued to ignore the nationalist urges sought by the newly formed government. According to Ashish Rajyadhaksha in A Short Introduction to Indian Cinema, films like Andolan (1951) and Shaheed (1958) were exceptions. While the Nehruvian government and Gandhi largely conceived of the cinema as a corrupting force, the movie industry continued to stay defiantly indifferent to such criticism. Over time, the song-and-dance spectaculars with their colorful settings and dramatic storylines have evolved into a singular idiom that seduce even the English-speaking intelligentsia, unifying citizens and the diaspora in an experience that can only be made in India.
Such defiance and even indifference to critics and naysayers, however powerful or revered they maybe, is often a necessary attribute for all creators.
Subsume your competition into your product or service:
When cinema first appeared in India, in the late 1800s and then into the early 1900s, it was shown at the end of a variety show of song, dance, concert and circus, perhaps depicting its position as the least enticing of the entertainment package. Over time, however, Indian cinema swallowed and subsumed all the other forms into its reels, becoming a more satisfying experience for audiences that thirsted for more than just a story. Since then, Indian cinema has also absorbed influences of Hollywood, of Indian theatre, and of other popular and indigenous forms of entertainment. It is perhaps unsurprising that Bollywood poses one of the biggest threats to other art forms. If they are already being delivered (however well or badly) inside a more seductive package, why would audiences stick with the less appealing originals?
Such an imperative to subsume or absorb your competition into your own product or service has also been advocated by Chris Christensen in The Innovator's Dilemma.
Spawn ancillary products and services:
While cinema has certainly absorbed several influences into its fold, it has also spawned and encouraged entire industries that still revolve around its patronage. For instance, the music industry, the Bollywood dance classes, celebrity magazines, event management and fashion, to name a few. According to Rajyadhaksha, by the mid-2000s, when Karan Johar's films were highly popular, the pret business was worth over 19,000 crores. Designers like Abu Jani, Sandeep Khosla and Manish Malhotra have contributed to Bollywood designs, but have also been boosted by their association with the industry.
Companies like Apple and Google have adopted a similar strategy by permitting developers to spawn their own apps and services on their platforms. Others like Microsoft and Amazon host startups on their clouds.
Persist despite failures
Despite many flops and elusive audiences, the ecosystem as a whole seems to display a remarkable grit and optimism. All that the producers and directors seem to need are a few hits every now and then to inject them with hope and the determination to persist.
Though companies and individual creators may not be able to withstand such long and deep droughts, surely they can take inspiration from the repeated attempts to produce the next hit despite statistics and history pointing towards bleaker outcomes?
Different Products for Different Audiences
Indian cinema is often faulted by elite viewers for remaining formulaic and banal, while audience sensibilities have moved on. But Indian audiences are a layered, complex entity that seem to move in different directions, all at once. While some adapt more progressive values, others seem to regress into behaviors and belief systems characteristic of ancient times.
While such audience shifts have always pervaded our seismic society, the formula too has been repeatedly questioned or rebuked by auteurs or renegade producers and directors. While Satyajit Ray would still be considered a force that was both 'outside and beyond' the industry, other creators inhabited less radical but remarkably innovative grounds. For instance, Guru Dutt addressed anxieties about the Nehruvian displacements of urbanization and industrialization in Pyaasa (1957), that is centered around a poet whose book becomes a bestseller after his death. Ritwik Ghatak featured the exile suffered by refugees and the impact of the 1943 Bengal famine. Mrinal Sen, who drew from the styles of Fellini and Bresson, depicted radical currents from Bengali theatre. Mani Kaul createdUski Roti (1969), about a woman who waits at a bus stop with a lunchbox, for a truck driver husband who roams the countryside. Later Shyam Benegal introduced artist actors like Shabana Azmi and Naseerudin Shah whose presence brought the highly-paid star system into question.
In the current scenario, new filmmakers like Anurag Kashyap, Vishal Bhardwaj and Hansal Mehta, are depicting darker, grittier realities, encouraging unconventional-looking actors and seeking inventive stories that capture contemporary stresses.
Just as Bollywood manages to stay unchanged and eternally in flux, individual creators and companies can draw lessons from its stable center and more experimental fringes, spawning products and services that cater to the highly pluralistic sensibilities that make up our complex country.