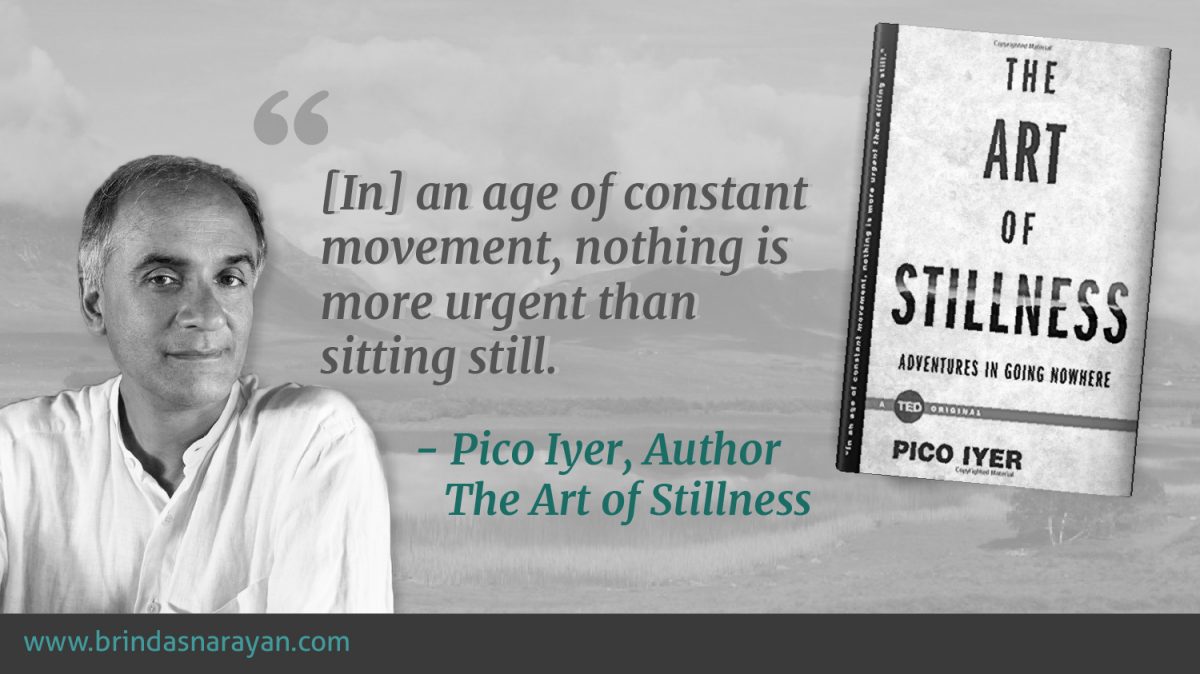 Gleaning Lessons in Stillness from A Famed Travel Writer
Saturday, July 13, 2019
An Unusual Encounter at A Zen Monastery
Many years ago, Pico Iyer, who resides in Nara, Japan, had travelled to the San Gabriel Mountains in California. Ragged peaks loomed into view when he turned off spiraling freeways that spun in and around Los Angeles. At his destination, where "a cluster of rough cabins scattered across a hillside," he was greeted by a small man, dressed in threadbare monastic robes. Despite his stooped back, and his age (he was in his sixties), the 'monk' insisted on carrying Iyer's luggage to his cabin. Inside, the simple shelter, he set a kettle of tea to boil and sliced up some bread. Like an ordinary attendant or greeter at any hotel or resort, he asked Iyer if he needed anything else.
The greeter, performing the customary chores of receiving guests and tending to the upkeep of the Zen monastery, wasn't ordinary, by any means. He was Leonard Cohen, an internationally-renowned singer, poet, writer and one of Iyer's childhood heroes. In other settings, Cohen was known for his dapper suits, his intense affairs and equally storied breakups, his esoteric travels, his dabbling like many other musicians with drugs and alcohol, his stirring and sometimes trenchant verses, his cultish fans. Why, Iyer wondered, did a man who had devoured all kinds of sensual pleasures, retreat into such sparseness and simplicity? Why did he withdraw, for five years, away from adulating crowds and other seductive tugs of success?
Pico, himself, a travel writer and novelist whose life and origins evaded easy categories, was not a member of any meditation group. But he was intrigued by what Cohen confessed on that hillside meeting. According to the performer, sitting still was "real profound and voluptuous and delicious entertainment."
A Young Pico Iyer Withdraws from A Seemingly-Enchanting Life
The idea of such retreats from everyday busyness into self-imposed solitariness wasn't completely alien to Pico. After all, at the age of 29, he had already made a surprising departure from what seemed like an ideal life and career. Working for the Time Magazine in New York, Iyer was covering significant turns in world history – apartheid's end in South Africa, Indira Gandhi's assassination, the unrest in the Philippines – living on Park Avenue, mingling with cultivated colleagues, when he suddenly quit. And spent a year in a small room on the backstreets of Kyoto, Japan. Expectedly, he received anxious and disapproving phone calls from his father. Ironically, Pico, a fantastically articulate writer, couldn't quite explain why going "nowhere" was strangely more appealing than going from "somewhere" to "somewhere" with the restless ferment that characterizes most jobs in modernity.
Of course, Pico, couldn't stay still forever. He may not have wanted to, even. Over the next two years, he travelled across a range of fascinating places – Argentina, China, Tibet, North Korea, Vietnam and Iceland – to write pieces that would sustain him financially and feed his curiosity. But after such intense travel, he craved stillness again. He retreated for three nights into a Benedictine monastery in California, where all the exigencies and plans dropped off and he stepped once again into the "inarguable something behind all our shifting thoughts."
Later, he moved permanently to Japan, where he settled down with his Japanese wife in a "doll's house apartment" without a car, a bicycle, a TV in any language that Pico understood, or even a bedroom. At a young age, Pico sensed that immense vistas can open up when we free our lives of material clutter.
Stillness Maybe Urgently Required in Our Distracted Techscapes
Though Iyer does not formally subscribe to any religion, including Buddhism, he penned an intimate portrait of the 14th Dalai Lama, in his book, The Open Road. Soon after, the writer was invited by a Google team to address employees at their headquarters. Pico found, intriguingly enough, that some Googlers were intensely self-conscious about using technology without getting used by it. The Chief Evangelist who greeted Iyer inside the premises, had set up a "Yogler" program to spread the practice of Yoga inside the organization. Another engineer had created a seven-week program titled, "Search Inside Yourself", a course that also disseminated scientific evidence about the impact of meditation on cognitive and emotional skills.
Iyer also cites the example of Kevin Kelley, a founding executive editor of Wired and a passionate advocate for new technology. Even as Kelley artfully analyzes high-tech breakthroughs and their capacities to widen our lives, he dwells, paradoxically enough, "without a smartphone, a laptop or a TV in his home."
Reintroducing Sabbaths or "Cathedrals of Time" Into Our Busy Weeks
Pico points out that it is by design that the Sabbath is the longest book in the Torah. Earlier, certain communities were obligated by churches or religious prescriptions to stop working, to keep the Sabbath as it were. Iyer himself points out how hard that is to follow, especially in an age where sending an email or messaging a colleague, is only a few finger strokes from completion. As the writer puts it, "I'd much rather give up meat or wine or sex than the ability to check my emails or get on with my work when I want to." After all, we also feel that working "now" would diminish future pileups. But perhaps, in the process, we do not permit our more creative selves to emerge.
Mahatma Gandhi, who was all too conscious of the value of the stillness, despite his active physical journeys and tightly-packed schedules, was said to have surprised his disciples one day by declaring: "This is going to be a very busy day. I won't be able to meditate for an hour." His followers were taken aback since they knew how much the Mahatma valued discipline and his spiritual practice. But, of course, Gandhi had the last word: "I'll have to meditate for two."
The value of deliberately doing nothing for a predesignated period of time can be equivalent to acquiring a "second home". After all, geography is less confining for most of us, as we can easily make virtual or real trips to many destinations. But, we are increasingly tyrannized by time, with very few shielded hours (or days), in which we can engage in deep contemplation, in an attempt to get closer to that which is most familiar but also terrifyingly mysterious: ourselves.
The Musician Returns to Live Performances
After his monastic life, Leonard Cohen was compelled by financial circumstances (a trusted partner had stolen his savings) to engage in live global tours, at the age of 73. Pico happened to attend one of his performances, and discovered that the audience was mesmerized. Even as Cohen belted out his numbers, Iyer felt as "if the whole spellbound crowd was witnessing something of the monastery." Moreover, a new album released by the singer, Old Ideas (2012), topped the charts in many countries, with his song Hallelujah breaking into the "number one" spot. When the industry least expected it, the singer had morphed into the "latest thing", beloved not just of his contemporaries, but of millennials and even younger generations.
For us to tap into similar powers, whether young, middle-aged or older, we might do well to heed Iyer's travel advice: "I think the place to visit maybe Nowhere."
References:
Iyer, Pico, The Art of Stillness: Adventures in Going Nowhere, TED Books, Simon & Schuster, London, 2014.