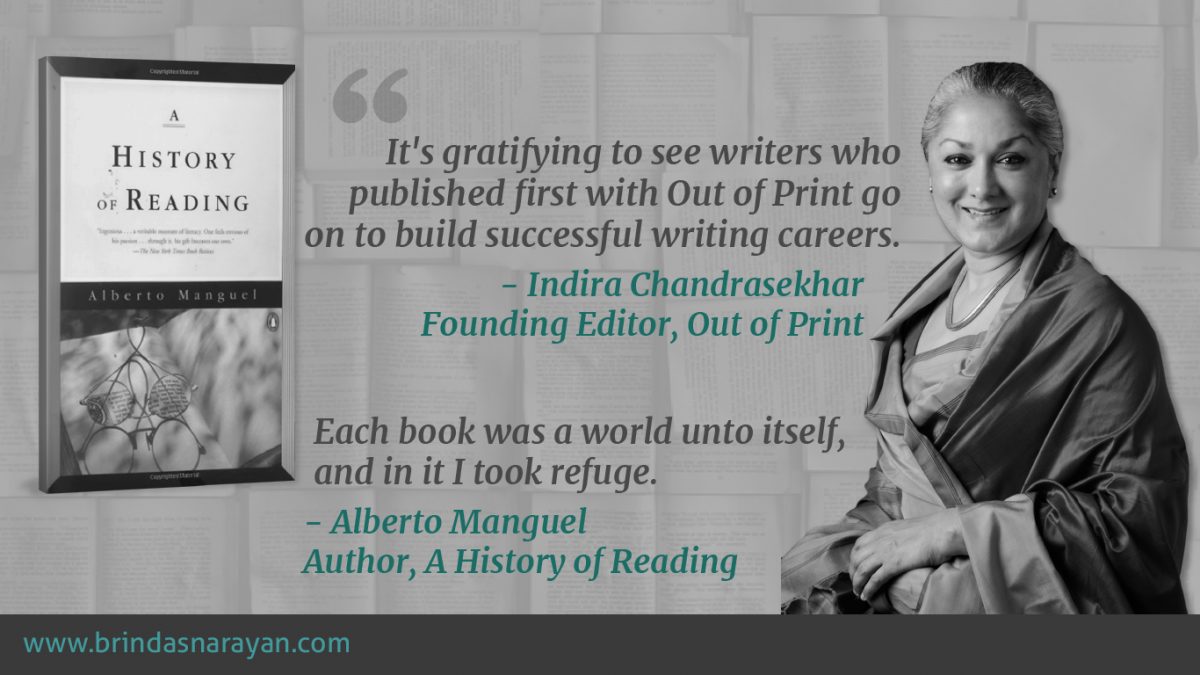 From Molecules to Metaphors: The Founder of a Literary Magazine Reflects on her Transition
Tuesday, September 3, 2019
Alberto Manguel: Reading as a Conquest of Space and Time
Alberto Manguel, author of A History of Reading, recalls the time, as a four-year-old, when he was first able to decipher the signs on a billboard. He says the new magical attribute – being able to read – felt akin to acquiring a new sense. After all reading enables the conquest of time and space, or in the words of the 16th Century Baroque writer, Francisco de Quevedo, permits "conversations with the dead."
Indira Chandrasekhar: A Reader Turns to Science, then Founds an Online Magazine
It's perhaps unsurprising that Indira Chandrasekhar, the Founding Editor of Out of Print (http://outofprintmagazine.co.in/), an online literary platform for short fiction, was led to her first career by a book. James Watson's riveting account of the unfurling of one of Nature's fiercely-guarded enigmas – the DNA molecule's structure – in The Double Helix, inspired the young Indira to immerse herself inside Biology labs after her Doctorate in Biophysics at the IISc. Galvanized by the idea of untangling other scientific mysteries, she worked at the prestigious National Institute of Health at Bethesda, USA and at other labs in the U.S and in Switzerland. In the midst of her last research stint at the ETH in Zurich, she moved, with her husband and kids, to Mumbai.
Back in India after her years abroad, Indira was struck by a novel feeling. She could have easily persisted with her scientific career. ETH encouraged her remote engagement and Mumbai proffered other research and teaching options. But she was acutely alive to the stir inside the nation's most cosmopolitan city. The place seemed to speak to her with its distinctly variegated tongues, the languages both intensely local and motley. The scientific world, on the other hand, flattened such differences, with scientists across the globe deploying familiar, insider jargon.
Rather than ignore her own internal ferment, she opted for a sabbatical and started penning her thoughts. Perhaps still infused with memories of Watson's character-driven narration and her own prolific reading as a young adult, she found herself writing short stories, some based on impressions of the populous island-city, others on remembrances of family and tradition.
Gradually, she found that her stories were acquiring intensity and heft; to hone them into polished works, she turned to learning the craft. Four years later, when she felt ready to submit her pieces, she discovered that India had few literary journals. She explored other outlets, sending her pieces to the very competitive US, UK and Australian markets. But that very year, 2008, also heralded the global financial crash. Indira noticed that many of the print + online journals were morphing into online-only versions to survive the funds crunch. Besides, online magazines were also acquiring wider and more discerning audiences, even as publishers accorded them with growing respect.
At the time, Indira sensed that the Indian subcontinent was also exploding with stories. Given the paucity of quality outlets for short stories, she decided to found her own online journal. Her niece, Samhita Arni, a reputed and established author, and daughter Mira Brunner, a sculptor, assisted with the setup. Birthed ten years ago, Out of Print has garnered a devoted readership and remarkable prominence and stature inside literary circles.
Alberto Manguel: A Brief Romp Through the History of Reading
But why indeed, do people read? The philosopher and cultural critic, Walter Benjamin, says each story becomes a world unto itself, creating a space you inhabit that feels as "real" as the physical world. But the seductions of escape require an active engagement with the text. Reading does not involve mere absorption of content. As readers, we "reconstruct" our interpretation, filtering the author's message through our opinions, world-view, and personal experiences.
Alberto observes that in ancient times, texts were always read aloud. In the great library of Alexandria for instance, there was a persistent din created by loud readers. So, Saint Augustine (354 to 430 A.D.) was rather startled when he watched, for the first time, his mentor read silently, his eyes roving over the page. Even as silent reading started becoming more common, people in authority and Church fathers feared its consequences. After all, how do you censor or control heretical thoughts? Later perhaps, the overgrown Catholic Church was justified in fearing readers, since the Protestant movement was fueled by a reader and writer, Martin Luther, who affixed his 95 theses to the door of the All Saint's Church in 1517.
In the Middle Ages in Europe, reading was restricted to the aristocratic classes. One of the ways in which reading divides were bridged between the literate and illiterate was through "public readers". In Cuba, in 1865, when trade unions were formed, Saturnino Martinez started publishing a newsletter called La Aurora. Since he wanted this to be accessible to illiterate workers, he appointed a literate worker to read the text to illiterate ones. Cubans who emigrated to the U.S. later, took the concept of the "lector" with them. There are pictures of workers in the U.S., "being read to" inside cigar factories.
Later on, such readings also spread into homes, into kitchens and living rooms, into courts etc. Some groups were comprised entirely of women, who also practiced a craft activity while "being read to". For women, this was also often the only means of educating themselves.
In 1781, Denis Diderot, the French philosopher and writer, deliberately read out raunchy novels to his wife, Nanette, to dispel her uptightness. In the Austen household, in the early 1800s, family members regularly read to each other. Many of the books read seeped into Jane Austen's novels.
Indira Chandrasekhar: Transmission of Editorial Techniques
The absorption of writing techniques by reading has been a common historical practice. Indira and her team of editors, who volunteer their time to the altruistic venture, have also noticed a different kind of transmission. Many of the submissions received by Out of Print require extensive editorial work. As Indira puts it, reworking another writer's piece without erasing the author's voice and intentions is an art by itself, and the complex work that editors perform is often invisible. Yet, the team is often gratified, when they find that in future submissions by some of those writers, or in works published elsewhere, the editorial techniques have been absorbed by the writers. The magazine, like great literary texts, is also schooling emerging voices.
Alberto Manguel: Reading Closely to Reinterpret and Decipher Techniques
Absorption of writing techniques requires close reading. Ashkenazi Jews, unlike the Sephardic schools, read texts very closely, analyzing and interpreting every word and sentence. So, each student that approached Talmudic literature created a new version. To symbolize the incompleteness of any individual's reading, often the first page of the text was missing. The Prague-born Franz Kafka was a student of this painstaking reading method. Even as he worked in the dull Workmen's Accident Insurance Institution, he constantly read on "stolen time."
Indira Chandrasekhar: Founder, Editor, Reader, Writer
Besides her astute reading and editing of other writers, and managing operational and promotional aspects of the journal, Indira continues to write both fiction and nonfiction. While her stories have appeared in several international journals, a collection of her short fiction, Polymorphism, was published by Harper Collins in 2017. As an editor, writer and founder of a literary magazine, Indira would relate to Kafka's dilemma, when he said: "One tries to imprison life in a book, like a songbird in a cage, but it's no good."
References
Manguel, Alberto, A History of Reading, Penguin Books, New York, 1996, 2014.