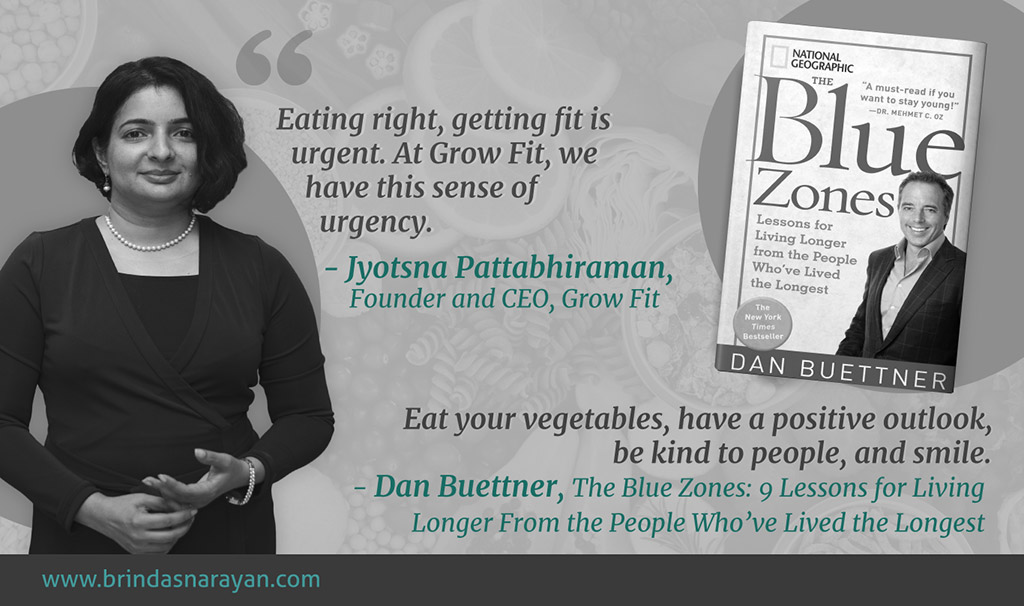 Leveraging Lessons From A Personal Health Crisis to Found a Startup: Jyotsna Pattabiraman Forges Lifestyle Solutions To Usher Personal Wellbeing
Thursday, August 27, 2020
Jyotsna (Jo) Pattabhiraman: Develops Resilience to Sudden Changes
The mythical "Fountain of Youth" has often served as the object of quest stories. After all, can any treasure chest be more appealing to mortal beings than everlasting youth and the longest-possible, healthful life? More so perhaps, during our locked in lives, when ambulance sirens are simultaneously savage and banal.
Jyotsna Pattabiraman was to realize the fragility of life plans, and our dependency on vulnerable bodies well before the pandemic had hurtled into our work-life spaces. But unlike most other people struck by such crises, she turned her brush with illness into a "purpose" or ikigai, founding a startup based on her own intimately-observed climb back to fitness.
To emerge from an ordeal with a fix that can ripple into other lives requires wells of resilience and what the University of Pennsylvania psychologist Angela Duckworth terms "grit". Pattabiraman had already been trained through a childhood that involved nine different schools across a mosaic of linguistic terrains to withstand intense volatility. With her parents employed in transferable banking jobs, Jo learned to adapt to cities and towns as culturally and geographically distanced as Trichy and Guwahati.
Crisscrossing India before the advent of contemporary International Schools entailed acquiring an awe-inspiring fluency in seven languages: Kannada, Tamil, Hindi, Spanish, French, German, Assamese. Such constantly shifting home and school environments might have scrambled the academic trajectories of other children. But Jo clearly had a verbal giftedness and an enviable ease with science and numbers, that sparked her later interest in Engineering.
Dan Buettner: Embarks on The Blue Zones' Mystery
Like Pattabiraman's childhood, Dan Buettner's life after college was marked by vivid adventures: cycling trips across the Soviet Union and Africa, explorations into the collapse of the Mayan civilization. In one of his more recent curiosity expeditions, he recreated humanity's storied search for the magic vials of agelessness. Tapping into the findings of longevity demographers, who had already marked out some regions for hosting an astonishing number of centenarians (people aged 100 and above), Buettner, a National Geographic Fellow and award-winning journalist, set out to crack the code. In the five regions or 'Blue Zones' that Buettner identified, "people enjoy up to a 3 times better chance of reaching 100 than we do." With the longevity hotspots ranging as far apart as Loma Linda in California and Okinawa in Japan, Dan and his team of experts interviewed centenarians and their "younger" family members to prize lifestyle tips that the rest of us can adopt.
Jyotsna Pattabiraman: Travels to Global Symposia as a Melton Fellow
Motivated by a similar appetite to voyage into the unknown, after completing her 12th Standard in Mumbai, Jo wished to propel herself into a futuristic domain. Though she belonged to a generational cohort where most peers were picking Electronics, she found herself drawn to Software Engineering.
Her most compelling college memories revolve around her selection into the prestigious Melton International Fellowship, which funded her participation in global symposia, held in different parts of the world. Endowed by Bill Melton, the founder of Verifone, the Melton Foundation forges global collaborations to solve planetary issues. Already sensitized to the nation's cultural riches during her school years, she was now exposed to assorted foreign perspectives as an undergraduate. Travelling to places like China, Chile and Germany, she presented papers to "others with different ways of being."
Always an astute observer and eager to glean lessons from each place, she was struck, for instance, by how hardworking the Chinese were. Even on a Sunday in Hangzhou, she watched older citizens practicing Tai Chi or ballroom dancing. Moreover, she also encountered her own "difference": once on a train in China, she sensed many eyes watching her, realizing what it felt like to inhabit a "different-looking" body.
In general, her travels only reinforced how people in far-flung or unfamiliar places were "generally kind and well-meaning." Once, while lost in China, and despite not knowing the local language, residents helped her find her way back. At another conference, she met people from Dillard University in New Orleans and was exposed, for the first time, to the turbulent narratives that constitute Black History in America. She also noted how theatrical gestures can sometimes communicate more powerfully than words. At one of the Melton conferences, a fellow student wore a gas mask, enacting the real and ongoing danger of climate change.
The Melton experience also seeded a yearning to move out of her own country and explore what the world had to offer. At a formative age, the symposia interactions had fostered the sense of being a global denizen, extending her citizenship beyond the confines of a single nation.
Dan Buettner: Encounters Changes Engendered by Okinawans
With his project funded by the National Institute of Aging, Buettner embarked on his pursuit at Okinawa, one of the smallest of Japan's main islands. Dan had visited Okinawa earlier, to report on a story centered around the healthy elders for the National Geographic. On this visit, he tried to track down a woman named Sayoko who had assisted him on his previous trip. But this time around, he found Sayoko harder to contact.
She had moved out of Tokyo and was living on a remote island, away from corporate connections and the buzz of big cities. When he eventually connected with her, she said her encounter with one of their elderly interviewees had impacted her choices in a life-altering way. She had been struck that their interviewee – a centenarian called Ushi – radiated calm and positivity on everyone around her. More remarkably, Ushi did not seem to worry about the future or fret about the past. Sayoko wished to become like her.
She quit her job, married her boyfriend and was now the parent of two kids. She spent her life engaged in smaller 'matters' like just ensuring the well-being of people around her and engaging in small acts of kindness towards people she encountered on a regular basis. Buettner himself was struck by the changes in Sayoko: who now wore simple cotton clothes and open sandals, with her black hairs yielding to natural greys. More than anything else, she seemed to exude a serenity that had been absent in her corporate avatar.
Even on this visit, when they returned to interview the now 104-year-old Ushi, they found the centenarian continued to help bag groceries at a local marketplace and met every day with three childhood friends. Her diet consisted mainly of vegetables and a "cup of mugwort sake before bed." Simple activities and a minimalist lifestyle sustained her days.
Jyotsna Pattabiraman: Widens Her Professional Horizons
Unlike Sayoko's move to shrink her life, as a spunky and ambitious undergraduate, Pattabiraman was understandably focused on expanding her horizons. Besides, her mother, as the youngest aspirant to pass the nation's formidable banking exam, had demonstrated that women can not only enter forbidden domains, but also outshine male competitors.
After her undergraduate degree, she had to choose between two job offers: one at IBM, and the other at a startup founded by Bill Melton. She opted to join the latter, a company called CyberCash. With few women in technology organizations at that point, she had to contend with a single toilet, shared by all employees. But the experience galvanized her in other ways. Since the organization structure was appealingly flat, she was granted significant autonomy and access to all levels. She sensed how "companies could be agents for good."
In the meanwhile, she had also met Madhu Konety, her future husband, at college. Since he had already moved to the U.S., she scouted for opportunities in America. She landed a job with Oracle in Virginia whose clients included large Fortune 500 companies. One client had asked Oracle to build an e-marketing system, but when it was delivered, she observed that they did not know how to use it. The experience taught her to consistently design systems with users in mind, and to integrate user feelings and responses from an early stage. Moreover, she sensed that knowledge of technology was insufficient. Keen to broaden her skill base, she applied for an MBA.
Admitted to both Stanford's GSB program and to the Harvard Business School, she was faced with an enviable but difficult choice. Rationally, she was already drawn to Stanford because of its small school size, its sprawling, palm-dotted campus, its technology focus and the legendary greats the institute had spawned. But it was something else that captured her heart. Her birthday fell on a date which was a few days before formal Admission decisions were announced. She received a surprise voicemail message from the Admissions Director, wishing her a "Happy Birthday" and also transmitting the exciting news about her admission. That experience taught her how to break out of standard procedural moulds when communicating with customers, employees or other stakeholders.
When she graduated from Stanford, she encountered a very tough recruitment landscape. The Dotcom downturn had engendered a systemic collapse. Unlike earlier years, when companies flocked to campus to recruit the Business School's bright sparks, she had to actively hunt through a sparse terrain for opportunities. But Jyotsna was accustomed to coping with discomfort. She eventually sprang on a job opening at Ebay, posted by a Stanford alum. She snagged a Product Manager position at the auction company because of her strong attunement to customer needs.
Just as her career was lifting off, she was beset by other complications. Pregnant with her first child, she was advised bed rest. Struck by gestational diabetes, she connected with a nutritionist who suggested she stop rice. As a South Indian, this was a tough choice since rice was pretty much a staple food. The nutritionist recommended something called "Tempeh" – and Jo didn't know how to really cook it, so she boiled it with water and detested its taste. She also needed to get her blood tested after every meal, enduring painful pricks every few hours. Fortunately, after three months of rest, she delivered a healthy baby by C-Section.
Since her Californian company offered only a month-and-a-half of maternity leave, she returned to work but soon decided to take a break from her job and focus on her health.
Stamatis Moraitis: Miraculously Bounces Back from Cancer
Stamatis Moraitis, an erstwhile resident of Ikaria, was also compelled by health reasons to disrupt his upward trajectory in the United States. Buettner narrates his incredible tale to exemplify the miraculous qualities of Ikaria, an island in the Aegean Sea and a Blue Zone in Greece.
In his early life, Moraitis had emigrated to the United States after World War II, along with many other Greek compatriots. Establishing himself as a house and school painter, he soon married a Greek American woman, acquired a house, had children and bought himself a 1951 Chevrolet. As Buettner observes, "in short, he achieved the American dream."
In his early 60s, however, he often fell short of breath and soon enough, was diagnosed with lung cancer with only a few months to live. Sensing that it might be wiser for him to return to Ikaria in Greece and be buried there, among his ancestors, than for his wife to incur the steeper funeral costs in America, he returned with his family to Greece.
Back in Ikaria, among rippling vineyards and salt-licked sea breezes, he took to enjoying the last few months of his life. He reminisced about the past with childhood friends, drank local wines, started attending Church and resigned to dying a contented man. Strangely, however, he started feeling physically rejuvenated. He decided to plant a vegetable garden that his wife and kids could reap after his death. Yet the Grim Reaper did not arrive. Instead of succumbing to the dire diagnosis of the American doctors, he lived to meet with Dan Buettner's team at the age of 100. "He never went through chemotherapy, took drugs or sought therapy of any sort. All he did was move to Ikaria."
Jyotsna Pattabhiraman: Founds Grow Fit to Leverage her Personal Learnings
In 2008, Pattabiraman moved back to India, and after a few stints with various companies and consulting projects, she found her health worsening again. The diabetes had returned, and even as she shunted from doctor to doctor, she was frustrated by the manner in which her body was parcelled out, with each doctor working in silos. No one seemed invested in her as a whole person.
To exacerbate her concerns, by then, both her parents had many surgeries and though her father had great faith in Western medicine, the approach didn't seem to work for her. At that point, she stumbled on a competent nutritionist who suggested dietary changes. She also started consciously working out. More intriguingly, her health started turning around. She realized then that medicine is often the last resort, and perhaps simpler changes in food and exercise and other personal habits can drive wellbeing more effectively.
Meanwhile, in the ecosystem around her, she also observed that many of her friends were being diagnosed with ailments or prescribed surgeries, with many of these setbacks occurring unexpectedly and involving more serious issues than the ones she was facing.
Driven by a sense that she could alter lives with lessons culled from her personal experience, she started Grow Fit in 2016. At first, she intended to proffer advice on mental and physical health, skin and hair issues. She raised a seed round of $1 Mn, but soon realized that doling out guidance was often not enough. People had trouble complying. It was one thing to recommend a healthy diet, but not easy for folks to stick to it. So she experimented with turning food itself into a product, since she knew that the right foods are a critical pillar of health. As a result, Grow Fit is one of the pioneers in the healthy eating space. Deploying the expertise of nutritionists, counsellors, food technologists and medical experts, the company custom designs flavourful and fun foods to achieve physical goals. Jo says that it has been very rewarding to make stuff that has tangibly helped family and friends.

She herself is no longer diabetic. In fact, she calls herself Customer #1 at the company. She knows, by personal trials, that the product works. She thinks she should hang a sign, like at restaurants, proclaiming that the "Proprietor Eats Here."
Since then, having learned more about the healthscape of the country, she warns that Diabetes and Thyroid are silent epidemics. Since they are not visible reversals like a fractured arm, they are often ignored by individuals and society. Moreover, she has noted that the average age of customers at Grow Fit is only 27. This indicates that younger age groups are facing health issues. "We don't realize the scope of the problem," she says. Before Covid-19 struck, "80% of hospital beds were occupied by people with lifestyle diseases."
Jyotsna Pattabiraman: Continues to Scale and Deepen Grow Fit's Impact
Since its inception in 2016, Grow Fit has already gained tremendous traction in the market. The company raised $ 4.5 Mn in a Series A round funded by the Manipal Education and Medical Group (MEMG). Backed by luminaries like Kris Gopalakrishnan (Cofounder, Infosys), K. Ganesh (Serial Entrepreneur and Founder, Portea Medical) and Dr. Ranjan Pai (CEO and MD, MEMG), Grow Fit currently operates in three cities, with a lean team of highly-skilled employees. In the near future, Jo plans to expand to other Indian cities and internationally.
Responding with agility to the Covid-19 crisis, the organization introduced a Home Chef option, wherein ingredients are delivered to customers who opt to cook at home. Besides driving growth, Pattabiraman is inspired by the changes she is ushering into lives. For instance, her team recently curated a low-carb diet to help a kid manage seizures. Such stories infuse the company with a social purpose that has only sharpened during the ongoing pandemic.
Dan Buettner: Draws Nine Lessons for People of All Ages
Distilling the wisdom he gathered from his 100-plus year-old interviewees or even somewhat "younger" Blue Zone inhabitants, Buettner draws nine critical lessons that any of us can adopt, to foster our own personal blue zones, regardless of where we are on the planet.
Engage in regular, low-intensity physical activity every day:
Buettner advises that high-intensity cardio workouts may not offer the same life-extending qualities that low-intensity exercises like walking and swimming do. Such activities should also be distributed over the day, and preferably woven more seamlessly into our working lives. For instance, Okinawans engage in gardening, while Sardinians tend to their sheep on challenging, mountainous terrains.
Eat Moderately:
As early as 1550, in his book, The Art of Living Long, the Italian Luigi Cornaro said that life can be best extended by practicing "moderation." The author himself lived up to 90, so he might have been onto something. Dan finds that most people who inhabit the Blue Zones ensure their intake of calories are on the lower side. The Okinawans even start their meals by saying hara hachi bu, a dictum that translates into "eat only till you are 80% full."
Adopt a Plant-Oriented Diet:
Besides eating foods with low calorific values (beans, legumes, tofu, plenty of vegetables and fruits) most centenarians have tended to follow diets with very little and infrequent meat.
Drink Red Wine:
Wine aficionados might be heartened that in many Blue Zones, local red wines are drunk with at least one meal. But alcohol consumption is also always moderate, so getting drunk on red wine may not help one's long-term health.
Retain a Sense of Purpose:
Most centenarians have continued to "work" or at least wield a sense of purpose, well into their 90s and even post 100. Some tend gardens, others care for grandchildren or even serve a spiritual role in the community. As Viktor Frankl put it, "Those who have a why to live, can bear with almost any how."
Slow Down:
Make sure, during a stressful week or even every day, that you do get some downtime. Okinawans hang out with their friends or maoi, while Nicoyans (in Costa Rica) socialize every afternoon. For the Seventh Day Adventists in Loma Linda, California, Sundays or Sabbath days are reserved for prayer, friends and nature walks. The advice from 107-year-old Raffaella Monne in Sardinia may be worth noting: "Life is short. Don't run so fast you miss it."
Find Spiritual Companions and Participate in Community Rituals:
In all the Blue Zones, people seem to believe in higher forces, and congregate together to pray and socialize. Buettner suggests Unitarian Universalism or Buddhism for those who do not feel drawn by more dogmatic or traditional religious groups. Perhaps, even secular causes like environmentalism, veganism or the promotion of social justice can serve as idealistic binding forces.
Meet family often:
Most centenarians live with their families or retain close touch with the younger generations. Nursing homes or old-age homes may not facilitate such healthy intermingling across age groups.
Seek a Tribe of Like-Minded People:
Buettner warns that since habits do transmit across communities, if you want to stay fit and eat healthy foods, it makes sense to hang out mostly with people who have similar goals.
References: Buettner, Dan, The Blue Zones: 9 Lessons for Living Longer from the People Who've Lived the Longest, National Geographic, Washington D.C., 2018.