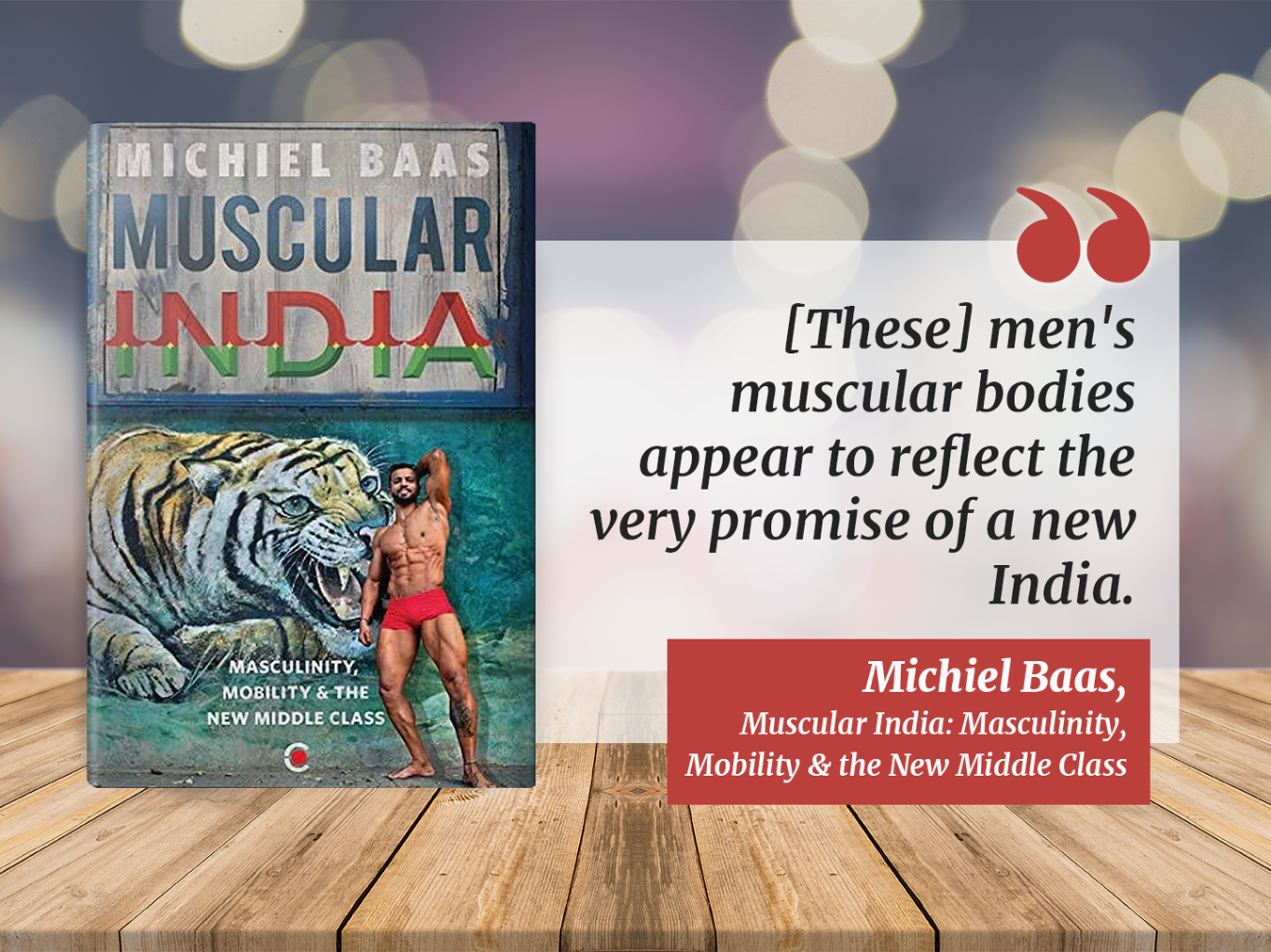 Lessons from Books: A Fascinating Study on How Men's Bodies are Transforming inside A New India
Tuesday, January 5, 2021
Often it takes an outsider's captivation to shine a distinct light on a phenomenon that is unfolding around us in a seemingly slow and hence almost unnoticeable manner. Michiel Baas, an urban anthropologist who is currently engaged with the Max Planck Institute for Social Anthropology, has written a richly-nuanced account of the manner in which male bodies are being reshaped in middle-class India. Though trained as an academic, he has consciously made his narrative non-fiction work, Muscular India: Masculinity, Mobility & the New Middle Class, accessible to lay readers.
Stitching together extensive field work that spanned a period of 10 years, wherein Baas hung about Indian gyms and also conversed with trainers, gym managers, clients and magazine editors among others, the book evades flip categorizations. For instance, he observes that the notion of the "middle class" in India is a complex entity with many layers. Old and new middle-classes jostle with each other, with the inevitable frictions and push-backs that such movements entail.
Even as the physical landscape has been morphing over the past decade – more malls, more steel-glass towers hosting startups or IT services, expanding cities swallowing erstwhile villages – Indian bodies have also been undergoing changes. And the gym, now almost ubiquitous across the country, has facilitated bodily transformations which ripple into other aspects of identity. While the female body has, more obviously been subjected to both cultural and social pressures, Baas notes that male bodies too, are increasingly an object of a globalized gaze.
Marking out specific cultural triggers, Baas observes that the Indian male desire for a specific body shape and muscle mass was fueled by the release of certain Bollywood movies. The spark might have been lit by the song, O O Jaane Jaana in Pyaar Kiya to Darna Kya (1998). But the fitness craze was fired by Shah Rukh Khan flaunting his newly-constructed abs in Dard E Disco from Om Shanti Om (2007). This yearning for muscles and the corresponding supply of gyms was heightened by the Aamir Khan starrer, Ghajini in 2008. Simultaneously, men's magazines such as Men's Health started appearing on news stands from 2006. Interestingly, the first issue of Men's Health decreed that "Indians can have abs too," emphasizing how such a bodily ideal was a new introduction in the country's shaping of the male aesthetic.
Inside the gyms, since many of the trainers emerge from Tier-2 or Tier-3 cities, or from lower-middle-class rungs inside megacities, they seem to be bartering their bodily capital to gain social and cultural capital. While interacting with members of the upper-middle-class, the trainers glean the subtleties – the language, the inflections, the tones, the lifestyles, the attitudes and values – of the upper echelons. Baas also designates the trainers as brokers of muscle-building knowhow – or as the bridges between the client's flabby present and lean future.
While some of the trainers also participate in Body Building contests, in general, body builders sport a different body from the "ideal type." Baas notes that the standard body (like the much-vaunted "neutral" accent in the call-center) is of a "lean, muscular" variety, the kind that Bollywood stars, models and magazine covers flaunt. Body builders, on the other hand, flaunt a more muscular, extreme version which is considered unappealing by many people.
Most gym clients do not aspire for the body builder's version, but target the leaner type. In the creation of this "ideal," Baas astutely notes how global forces have seeded a deep homogenization while dressing up the sameness in different skin colours. For instance, the models on the Indian men's magazines can be traded with models on the covers of any other nation's magazines, and apart from the brown complexion, there is virtually no difference in the shape.
He draws attention to the fact that traditional Indian sports or workouts like Kalarippayattu and pehlwan wrestling involve different contortions, and lead to different bodily forms. The gyms are consciously feeding and responding to a modern, globalized, cosmopolitan ideal. Hence the trainers and clients, by acquiring such bodies (and other attributes such as a specific language, and particular styles of dressing and so on) signal not just "fitness" and sexual attractiveness but also "professionalism" and "cosmopolitanism." Besides such global 'virtue-signaling,' the transformations also radiate notions of being "self-made", "meritorious" and "diligent" among other dazzling ideals demanded by a 24by7 technoscape.
Even as 1000s of men from small-towns and cities scale the bodily ladders, the competition only grows more frenzied. The editor of the Men's Health magazine reported that they were flooded with aspirants who wanted to feature on their cover. Of course, Bollywood or some brand ambassador's position is the ultimate dream – a pyramidical height granted only to a chosen few. In the meanwhile, hordes sweat it out inside gyms or increasingly as personal trainers, gaining the attention of CXOs and posh society women in the only way they can – with perfectly sculpted biceps and abs.
Such chiseling also requires hard work. Besides extensive workouts and punitive exercises, accompanied by steroids and protein powders and growth hormones (especially for body building contests), the final outcome requires a constant vigil on the self – a kind of control that might be ordered in military environments. Besides the "body" is never really done; it's always a work-in-progress. Baas wryfully observes that some of these men fail to notice how far they have come – in terms of accumulating muscular wealth – while still obsessing with how far they have to travel yet.
Perhaps, we can speculate if such Sisyphean endeavors are a marker of modernity or even of pre-modern times. In the meanwhile, for those of you who would like to abide with your bodies as they are and relish an engaging read, Muscular India is a sparklingly-worded, refreshing take on a familiar terrain. Often the most gripping forms of travel are those that look anew at the local, and Muscular India does exactly that.
Baas, Michiel, Muscular India: Masculinity, Mobility & the New Middle Class, Context (Westland), 2020.