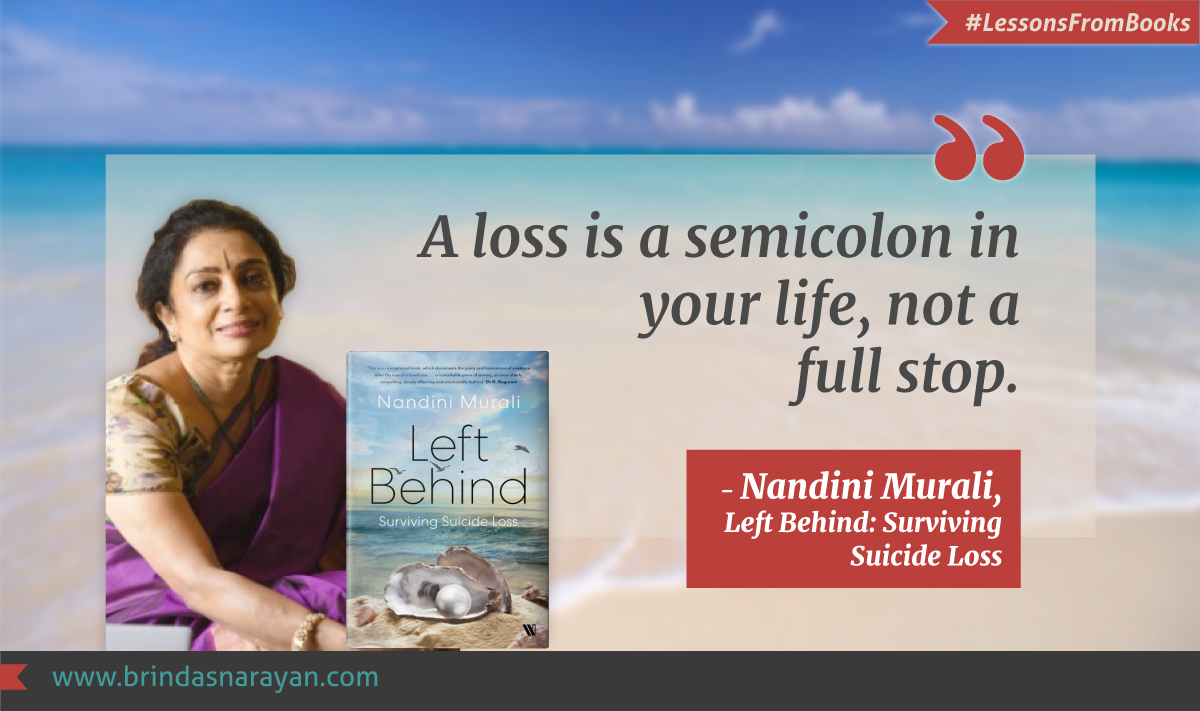 Lessons from Books: An Inspiring Memoir and Guide to Surviving Suicide Loss
Monday, March 29, 2021
Nandini Murali: Numbed By Her Partner's Sudden Passing
Nandini Murali needed to travel on work, for two days, from Madurai to Chennai. When she bid her doctor husband farewell, he waved her off with a customary list of to-dos, like some snacks and pickles to be brought back. Surprisingly, he also gifted her a gold nugget and asked her to exchange it for some jewelry. She was delighted.
When she returned to her home in Madurai, Dr. Murali did not greet her at the front door, like always. A panicky Nandini was to soon discover his lifeless body: "27th April was the day one suicide killed two. That was the day I lost my precious partner and the sun plunged into darkness."
In the moments following this numbing discovery, Nandini was subjected to a gamut of emotions. Naturally, she was assaulted by grief, but also "shame, fear, guilt, anger and remorse." She even wondered if she should mask the truth to protect Dr. Murali and herself from the social censure and voyeuristic questions that were likely to follow: "Didn't you see it coming?" "Why didn't you stop him?"
But Murali was also armed with an unusual background. She was a gender and diversity researcher and a communications professional, who assisted people from the LGBTQIA + community overcome stigma and disclose their identities. Would she be doing the right thing by perpetuating the stigma and stereotypes associated with suicide? Shouldn't she help shatter some of those misconceptions? Even in those memorable, earth-shattering minutes, she resolved not to veil the situation, but to disclose the details without detracting from the dignity of her husband's life.
Before she had emerged from her state of shock, she had to contend with police investigations, which were hardly sensitized to the agony and confusion of the survivor. On the day of the funeral, Nandini was acutely attuned to the manner in which she was being viewed by others. While she vented out her own grief, she was aware that some mourners were hesitant about approaching her. She sensed the pitying glances directed towards her, and the hushed whispers. "When they saw me, they lapsed into an embarrassed silence." Some even thought it was appropriate to interrogate her.
She realized that as a survivor of suicide loss, she was subjected to a kind of moral appraisal that survivors of other causes may not encounter. "Survivors of suicide loss are confronted with multiple challenges: relentless speculation, public gaze, intrusive probing and insensitivity." Moreover, people seemed eager to pinpoint a "single cause," not realizing that suicide is often precipitated by a host of "biophysical and psychosocial factors." As Murali adds, no one can really be attuned to the complex workings of a mind that is ideating about suicide. "One can never know with certainty why they did what they did."
Nandini Murali: Traverses The Valleys and Craters of Grief
After the 13-day mourning period, Nandini grappled with a new geography, the terrain of grief, something that she had to pretty much contend with on her own, after all the friends and relatives had returned to their own busy lives. As someone remarkably attuned to her own physical and mental state, Nandini notes that recovering from suicidal grief is more complicated than recovering from other forms of bereavement.
Later, when she emerged from her fog – the debilitating headaches, the dizzy spells, the vomiting, the fatigue and sleeplessness – she found refuge in the one place that many of us hearken to, during moments of intense anxiety or uncertainty: Google. Eventually alighting on an article in Psychology Today on "Understanding Survivors of Suicide Loss," she realized she wasn't alone. She belonged to a community, even if its members were distributed across other nations.
Two books in particular, authored and co-authored by Carla Fine, helped her navigate this period. Carla, too, had lost her urologist husband to suicide. And though she lived in New York, Nandini recognized that she had much in common with Carla, even more perhaps than with the people who inhabited her own neighborhood. Like Carla, Nandini too felt she was the object of a scrutinizing public gaze, especially at a time when she merely wanted to harbor her private grief. She even emailed Carla, little expecting a response. Surprisingly, the author wrote back, tethering a connection that transcended oceanic miles and disparate cultures.
One of the key lessons she imbibed from Carla was the need to relinquish self-blame, especially since none of us can control the thoughts and actions of those close to us. Unfortunately, a legal system that criminalizes suicide often subjects survivors to hostile, accusatory questions, especially when they most need empathy.
She learned too, that the American Psychiatric Association equated the pain of suicide survivors with inhabitants of a concentration camp. Once Nandini, who was already academically oriented, started reading, she couldn't stop. Before she had a grip on her own actions, she had scanned thousands of articles and research papers, digging into the experiences and facts of not only the suicidal, but also of survivors. Perhaps, she hadn't encountered the field of suicidology till then, but she was already embarking on a learning journey towards becoming a suicidologist.
Moreover, a chance public interaction strengthened her resolve. Her husband had been scheduled to speak on spinal surgeries at Coimbatore. Since Nandini herself had been through spinal surgeries, she volunteered to fill in for her partner and recount her own experiences as a patient. At that event, held a month after Dr. Murali's death, she also spoke for the first time about her loss, and her recent experience to an audience of 200 people. She was overwhelmed when she received a "standing ovation." Perhaps she needed exactly that, a confidence booster to set her out on a mission to use her learnings.
Nandini Murali: Rejects The Traditional Framing of Widows
As she emerged from the severe jolts of such a sudden loss, Murali was also determined to reject the "dehumanizing" notions associated with widows. She actively planned to reject the self-effacement and downplaying that was culturally inflicted on widows. Of course, she had to endure the barbs and tart remarks such spirited "defiance" entailed. One friend commented on the bright colours that she continued to wear: "I am a butterfly, I cannot change into a moth," she said. Another said, "You still wear your nose ring?"
If she had possessed the stamina just then, she might have tried to persuade her "critics" to view such appearance norms as being the product of patriarchal and regressive mindsets. Just then, she needed to conserve her internal resources to make herself whole again.
Instead, she found refuge in like-minded friends, with whom she declared: "I am determined to be a glamorous widow." With such friends, she was able to release her pent-up emotions and even joke about the situation: "Humour, I was soon to discover, was the best antidote to pain." Moreover, she reached out to her network of feminist friends from other parts of the world, who cheered her on. Her friend Usu, from Kenya, urged her to stay "strongly grounded in feminist consciousness."
Later, galvanized by her own experience, Nandini has also started a group – SPEAK Suicide Bereavement Support Group (SBSG) which focuses on survivors who need companionship and support. One of her inspirations to launch SPEAK was Shanthi Ranganathan, who set up the TT Ranganathan Clinical Research Foundation, after losing her own husband to alcohol dependence. Another role model has been Priya Babu, a transgender activist, theatre actor and writer. Babu set up the Transgender Resource Center in Madurai to bolster and support the transgender community.
Organizations like SPEAK are critical in a setting where the suicide statistics are dampening. Murali offers an overview of the rather bleak numbers. For instance, apparently our nation contributes to 17% of suicides across the globe. And things only seem to be getting worse, because in the decade running from 2002 to 2012, the rate climbed by 22.7%. In the young-adult cohort (16 to 29 years), India reports more suicides than in any other country. And our densely squeezed high-growth cities – Chennai, Bangalore, Mumbai and Delhi – contribute more than other urban areas.
What Nandini champions is a drastically-needed shift in perspective. Transcending the stigma and the stereotypes cast on victims – as cowards or heroes or criminals – we need to address this as a public health issue that we are both engendering and neglecting. Equally, we need to empathize with the survivors and foster spaces for compassionate conversations and interventions. Murali quotes the American Association of Suicidology, who wisely emphasize that the "primary goal of suicide is not to end life; but to end pain."
We also need to assess if our current familial and social obligations are inducing unhealthy levels of stress. After all, even as modernity heightens material expectations, it fails to assuage the void that was earlier filled by community relations or by a larger social/spiritual purpose, rather than by mere material tugs. Even the appeasing of financial distress does not appear to offset anxieties driven by other causes. As Murali notes, "Anyone can be affected by a mental health issue, irrespective of their economic conditions, financial security, family situation and status in society. Anyone can die by suicide."
Nandini Murali: Remembers Her Partner's Rich Life
Nandini's partner, Dr. Murali was a gifted surgeon. He had been admitted to the intensely competitive JIPMER for his undergraduate studies, to the Maulana Azad Medical College for his postgraduate qualifications and to the prestigious  All India Institute of Medical Sciences for his M.Ch in Urology. He had not only saved innumerable patient lives, his expertise in "andrology, pediatric urology and renal transplantation," was recognized among the medical fraternity across the nation.
As Murali says, three of her favorite people have died by suicide: the artist Vincent Van Gogh, the author Ernest Hemingway and her partner, Dr. Murali. She would like for them to be remembered for the manner in which they lived, and not for the manner of their deaths.
Left Behind: Capturing the Indescribable
Experiences like those described by Nandini, often reveal the inadequacies of language. As Elie Wiesel puts it in his haunting volume Night, mere words cannot bear witness to parents and children being corralled like cattle into trains heading out to gas chambers. But like Wiesel, Murali has managed to suck us into her moment-to-moment account of survival, of a time perhaps that was intensely harrowing but also, at the end, oddly uplifting.
After all, as Nandini shows us not only with her vividly painted memories but also with her tenacious spirit and plucky actions thereafter, the life force surging in each of us has a capacity to withstand storms and emerge reshaped but also stronger. I strongly recommend this book not just to survivors of suicide loss, but of any loss. And not just to survivors, but to any readers who would gain from Murali's wise counsel, her lived experience and immeasurable fortitude.
References:
Murali, Nandini, Left Behind: Surviving Suicide Loss, Westland, 2021.