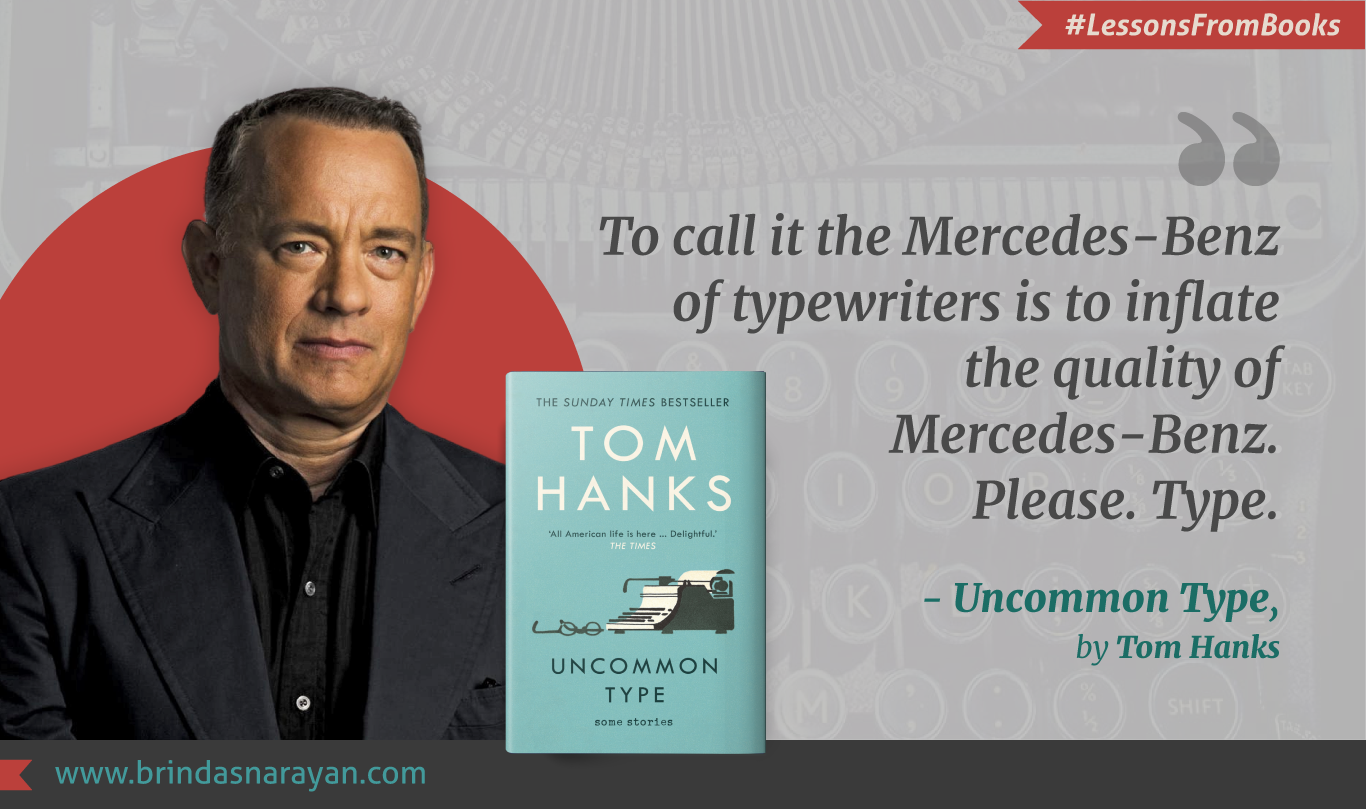 Tom Hanks Evokes the Extraordinariness of American Every Days in Uncommon Type
Monday, April 12, 2021
Just when we thought that the all-rounder, Renaissance-types were no longer faddish, Tom Hanks, who hardly needs an introduction as an actor, director and producer, has cranked out an astonishing collection of short stories. And I use "cranked out" because I deliberately want to evoke the clackety-clacks, the whirs and bings of those old-fashioned machines that once used to occupy offices before noiseless computers slid into their place. And this too, is an aspect of Hanks that is little known to the general public: he has a fetish for typewriters. Apparently the actor owns more than 200 of these now-antiquated contraptions, and it was perhaps their heavyset and rather ponderous presence that prompted him to rip off the covers, roll the papers into place, and pound out slices of American life, with a cadence, diction and voice that are distinctly his.
Lingering with unblushing affection on the patchwork lives that stitch America into a nation that is sometimes charmingly oblivious to and at other times, mordantly self-conscious of its uncommon character, Hanks wades inside big cities and small towns that dot the land of opportunity. In Three Exhausting Weeks, the slothful, lethargic narrator is drawn into an "opposites attract" kind of relationship with a hyper-energetic, constantly buzzing woman, Anna, who has no reservations about seizing every moment of his hitherto laid-back life. Surely when a man who was contented doing nothing much is suddenly working out, jogging, scuba diving, canoeing or planning some other fraught adventure, we know he is entering perilous terrain. As the narrator puts it, "When a man thinks of a lady and looks forward to telling her that he ran forty minutes, well partner, he's living in Girlfriend Territory." Fortunately, the narrator dodges the cliché, and realizes soon enough that opposites rarely attract. As in real life, they wear each other down.
In Christmas Eve 1953, he plumbs the manner in which trauma – especially the kind of searing experiences that etch themselves into soldier brains – can affect different people differently. The protagonist, Virgil, whose phantom left limb occasionally pulses with pain, seems to have embedded himself into the reassuring warmth of family life, with Santa visits and Christmas presents; on the other hand, another veteran, who "had never been wounded" doesn't seem to have recovered at all. It's the kind of mystery that psychologists continue to ponder in resilience studies: why do some recover miraculously from appalling traumas, while others succumb to lesser battles?
Father-son relationships, with their concealed emotions and surreptitious bids for attention, are rarely inspected with the accuracy and honesty of Welcome To Mars, one of my favorite pieces in the collection. Both the father and son are the quieter members of a somewhat rambunctious family, where the mother and daughters engage in lusty and piercing conflicts. And then in a heartwarming turn of events, the father takes the son surfing on his nineteenth birthday, even surprising him with a waterproof watch as a gift. But it's the son who really gives something back to his father, by maintaining a stoic silence about discovering his dad's secret. Like any talented storyteller, Hanks pushes the teenager to his unflappable limits, by piling injury upon injury.
Love stories bubble up inside the liquid, ever-frothing conditions of modernity. A "hot divorcee" tries to ward off the overtures of her conveniently single, professor neighbor. But something "pops" inside her when she discovers his allegiance to Narcotics Anonymous. The space-watcher professor has been studiously drug-free for 20 years, veiling a vulnerability and a perhaps uneasy self-conquest in his rather casual flip-flop donning demeanor.
Yielding to nostalgia, Hanks leaps into the interwar period, into the late 1930s. In The Past is Important To Us, a billionaire who seems bored with his blasé existence with a fourth wife, travels back in time. But then he breaks the rule of time travel, by developing a fondness for or infatuation even with a woman he meets there. Hanks almost seems to yearn for the era when none of the passengers in the subway are staring into devices, and when magazines are filled with more text than pictures. Of course, he's also conscious that the past was never halcyon for all; for instance, an African-American character shudders at the thought of returning to those times. Nonetheless the billionaire keeps revisiting the same day at the 1939 World Fair, in order to encounter the same woman. When he eventually yields to temptation and stays a tad longer than he should have, he faces the horrific consequences.
Drawing from the actor's personal obsession, an image that deliberately recurs through all the pieces, is that of a typewriter, with many brands and models painstakingly described, as only an aficionado could. Besides typists, uncertain purchasers of first-time typewriters, secretaries mastering the intricacies of their machines, we encounter typewriter evangelists, who excitedly and rather sternly proclaim that typewriters should never lie idle. In These Are the Meditations of My Heart, a typewriter salesperson and repairman holds forth with the righteous fervor of a priest to a typing novitiate: "Typewriters must be used. Like a boat must sail. An airplane has to fly. What good is a piano you never play? It gathers dust and there is no music in your life."
The character's injunction might be ensuing from Hanks himself. Not just to other typewriter buffs, but also to himself. Overall, this is a collection that wades into the Sturm und Drang of ordinary lives. Some tales glow with an incandescent humor. Others are warm, mildly spiced and all-American, like apple cider with a dash of cinnamon. Some sparkle with mischief, others sort of tear you up. But they don't bite or snap, because they watch their country, like Hanks possibly does, with a kindly gleam. Many of the characters are middle-aged, attempting like most people, to lead good middle-of-the-road, mostly unnoticed lives. And you realize at a time like this, how sublime all this is, how utterly miraculous and rare.
References:
Hanks, Tom, Uncommon Type: Some Stories, Alfred A. Knopf, New York, 2017