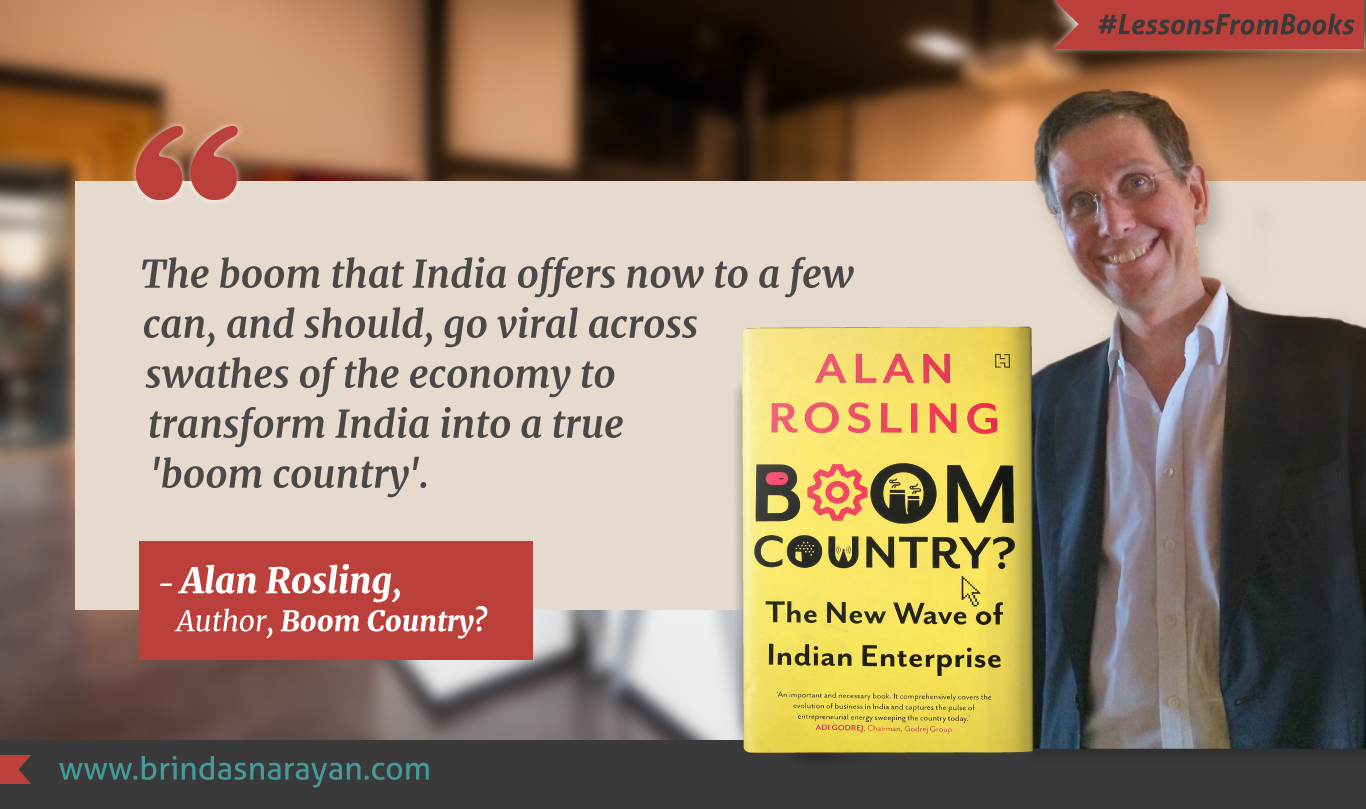 Lessons from Books: Boom Country? Charts The Stories Powering Indian Startups
Saturday, February 27, 2021
Alan Rosling Becomes a Founder Before Embarking on His Book
In the White Mughals, the writer William Dalrymple depicts the rather tempestuous love affair between a British dignitary and a Mughal noblewoman. Even after the nation's independence, many Britishers have been tugged by a mysterious allure in India, even if the fascination does not lie in a romantic persona. In contemporary times, Alan Rosling, author of Boom Country?, has been as fiercely captivated by the broader social and cultural complexities that stitch up this heaving region, and has also been fortunate to straddle the insides and outsides of the business eco-system.
When he planned to establish an advisory service to help newcomers navigate the byzantine networks of bazaars and babus, he had a meeting with Ratan Tata to bounce off his proposition. At that stage, he had already spent five years in India, serving as the Country Chairman of the Jardine Matheson Group. Ratan Tata urged him to join Tata Sons instead to drive the internationalization of the corporate behemoth.
After his remarkably successful stint at Tata Sons, Rosling did realize his entrepreneurial dream and set up Griffin Growth Partners to assist companies in emerging markets. Later, he co-founded a solar energy startup, Kiran Energy. This venture required that he face the emotional and physical hardships that most Indian entrepreneurs are compelled to brook: lingering inside government corridors, trudging through rugged rural terrains, corralling funds and managing erratic employees. In just a few years, Kiran Energy was generating 100 MW of solar power, no small feat in such a tangled and fickle environment.
In Boom Country?, he draws on insights from his own experience as well as from extensive conversations with more than a hundred interviewees – founders, investors and other experts. Moreover, he marries a historian's understanding of socio-cultural and emotional drivers (he holds an undergraduate degree in History from Cambridge University) with sharp business insights (he also has an MBA from Harvard Business School).
Besides other factors driving the boom like the easing of Government rules, Rosling also detects a critical cultural change. In a social environment where failure has been traditionally less forgivable, "Entrepreneurship is now 'cool' and socially acceptable…" Of course, some of these cultural shifts have seeped in from the U.S., by founders who have spent time studying or working in America, or even by just working at American multinationals.
From their origins as lone eddies in a tightly-regulated environment, startups today continue to morph the urban and rural economies as never before. In his interactions with Rosling, Ratan Tata acknowledged that he himself hadn't been precisely attuned to the sheer velocity of the entrepreneurial wave surging across the nation's shores. After his retirement, Tata evolved into one of India's most active angel investors. He even shed his earlier, more formal style of dressing in order to appeal to the tieless, chino-clad, relatively more footloose younger set.
Startups Take Root in a "Nation of Entrepreneurs"
Before the word 'startups' entered our everyday lexicon, entrepreneurs have always abounded in the country. Nandan Nilekani has often hearkened to the fact that "India is a nation of entrepreneurs." Such business creators can range from the milk vendor to the vegetable seller, all of whom are cobbling together a venture of sorts, however tenuous and hardscrabble their lives maybe.
A few degrees removed from the extremely impoverished hustlers, are the kirana stores – the familiar shops that sell anything. Or the retailers clustering around particular commodities – like gold jewelry or garments. As Rosling evocatively puts it, "India is a country of artisans, hustlers, merchants and small traders." While most of these are "entrepreneurs of necessity," in Boom Country?, Rosling trains his attention on the burgeoning second lot, on "entrepreneurs of opportunity."
Furthermore, he divides the founders into two broad cohorts: "Manmohan's children," who started their enterprises prior to 2000, after the famed liberalization of Indian markets in 1991. The more recent founders who forged their enterprises post 2000 are the "New Generation" and Rosling notes perceptible differences in mindsets, their gumption bolstered by a wide variety of financing options and a more savvy startup ecology.
Boom Country? Charts the Arduous Journeys of 'Manmohan's Children':
Manmohan's Children often had to contend with backbreaking toil and impossible odds. Ronnie Screwvala started by "stringing wires between buildings," to gird his cable TV offering. Much later, he was to sell his media enterprise, UTV, to Disney in 2012.
In that generation, starting a business wasn't necessarily a natural or organic step. Of course, those who emerged from traditional business communities or business families adopted the mantle in a more matter-of-fact manner. For others, such a boot-strapped, debt-licked life often had to be pursued without family support. Like Sanjoy Roy, co-founder of Teamwork Arts that runs the Jaipur Literary Festival among other landmark cultural events phrases it: "The legacy of Nehruvian India for us was that making money wasn't necessarily a cool thing."
Ajay Sethi's father was so opposed to his son setting up his own business that he refused to meet with him after Sethi, currently a Managing Partner at ASA & Associates, had hung up his boots at Arthur Andersen in order to kickstart his own venture. In a deeply patriarchal market and stymying government environment, Kiran Mazumdar-Shaw, founder of Biocon, started her joint venture as a 25-year-old determined to do things the right way, rather than bribe her way through the male-dominated red tape.
Often hurdles in existing family businesses pushed the next generation to explore vastly different sectors. Textile strikes were one of the factors that drove Ajay Piramal into the Pharma business. The same strikes spurred Niranjan Hiranandani, a first-generation entrepreneur in his family, to veer from textile weaving into real estate. Moreover, funding was often a challenge for this group.
Sunil Mittal convinced Kurt Hellstrom to extend credit on an unusual premise. "Mr. Hellstrom, I don't have the money to pay you, but I promise I'll pay 15% advance and the rest will be paid on happiness." When asked what he meant by "on happiness," Mittal clarified that his customers deriving "happiness" from making calls on his network would serve as a repayment milestone.
The New Generation Exhibits Grit and Chutzpah
While the 'New Generation' has had it relatively easier, by no means have all climbs been free of struggle. For instance, in 2004, Vijay Shekhar Sharma, the founder of Paytm, was so cash-strapped, that he was "scrounging off friends to eat and often went to bed after having had just a Coke and Britannia bourbon biscuit." His family even pleaded with him to shut down his enterprise and pursue a job, in order to redeem his marriage prospects.
Others, too, contended with aggravatingly sluggish early days. Sachin Bansal, cofounder of Flipkart, recalls a time when he would stand outside bookshops, handing out bookmarks to promote his online business. Moreover, keen to monitor every transaction, he had written code to trigger an SMS for every order received. Often he and his partner would hang out at cafes, staring into their phones, waiting in vain for messages. He recalls: "We used to celebrate when we got at least one order in a day."
In general, this cohort is more diverse than the previous generations, with many of them stemming from non-business oriented families. Several among this group hadn't started their businesses soon after college. Many opted for safer, salaried careers at first. For instance, Deep Kalra of MakeMyTrip joined a bank, after his education at St. Stephen's and an MBA at IIM Ahmedabad.
Srikanth Velamakanni , co-founder of Fractal Analytics, remembers growing up with a fear and even abhorrence for business people, since he assumed that most of them needed to indulge in corrupt practices. His father had been employed at Oil India, and a young Srikanth often watched vendors try to curry favors with "cash" and he assumed that such behavior was woven into an Indian business person's DNA. Bhavish Aggarwal had to overcome his father's resistance to his becoming a "travel agent" when he co-founded Ola Cabs.
Studying at pedigree institutions was a catalyst for some. For Bhavish, IIT Bombay opened a vast array of possibilities. For Naveen Tewari, his time at the Harvard Business School widened his perspective and fostered his belief that "Great things are achievable…" Also, a growing number of role models, influencers and peers provided an impetus to leave cushy jobs and set up shop. With this group, Rosling finds, the waiting period from launch to success has been significantly shortened, only confirming that "India is becoming an easier place to start and scale a business."
Often companies had to change course quite drastically. Tewari's InMobi was initially set up to offer mobile search, but after six months of burning up a significant portion of investors' money, they decided to abandon their original thrust and turn to advertising on the mobile instead. Similarly Bhavish Aggarwal had originally started out with Olatrip.com, before he changed from offering short holidays to running a platform-based cab service.
Moreover, operating in India has spawned locally-inspired inventions. Ashish Goel, founder of Urban Ladder, realized that many Mumbai flats lack lifts large enough to accommodate a three-seater sofa. So the company devised a stair-climber machine to hoist larger pieces of furniture to higher floors.
Then there are the lessons imposed by such a variegated terrain. Abhinav Sharan, founder of Aura Renewable Energy, learned to communicate in culturally appropriate ways with different audiences. Despite his undergraduate study at Berkeley and his Graduate study at Columbia, he had to "talk [in] English with an Indian accent, talk [in] Hindi without any accent."
Unlike Manmohan's Children, the New Generation also has a much wider range of "angels" to pick from. As Nilekani puts it, "A lot of the older generation have now become angels, and there is a whole class of people who made money in the previous generation who are now angels."
Though released in 2017, Boom Country? remains a relevant, richly-researched read for the post-Covid world. With compelling narratives and astute pointers for founders, investors and any Indophile, I would strongly recommend it to anyone hatching an India-based startup-plan or ploughing capital into a new enterprise.
References
Rosling, Alan, Boom Country?: The New Wave of Indian Enterprise, Hachette India, 2017