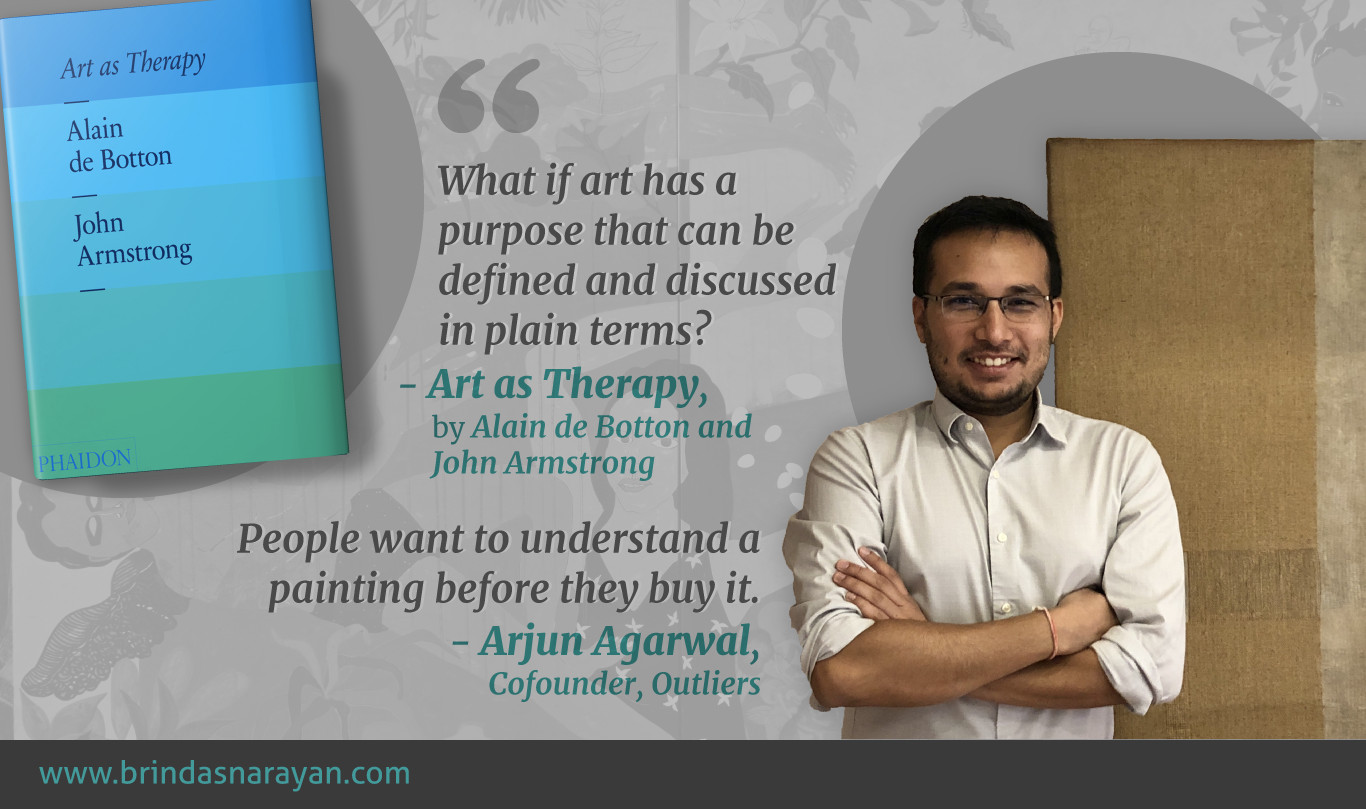 Arjun Agarwal, Cofounder of Outliers, Ushers a Fresh Perspective to Indian Art
Thursday, December 3, 2020
Art as Therapy: de Botton Shines a Torch on Another Impenetrable Terrain
Alain de Botton, who describes himself as a philosopher of "everyday life," lends his signature approach to themes as varied as Love, Work, Travel and Architecture. Moreover, he is known for making the formidable "Classics" accessible to the binge-watching, attention-deprived mobs. Through his books and his easily digestible online videos, de Botton has also exposed the pomposity and perhaps, unnecessary obfuscation that has shielded the bite-sized summaries of tome-penning heavyweights like Goethe, Nietzsche, Schopenhauer and Kant from harried professionals or dilettantes or curious millennials.
In one of his latest works, Art as Therapy, de Botton takes on another heavily-guarded, elitist citadel – the Art World. Ignoring the snide remarks and cold disparagement from certain critics, museum curators and art historians, de Botton boldly suggests that we adopt a refreshing, more friendly approach to displaying, viewing and selling art. After all, to most people, Art feels like an incomprehensible terrain, with collectors and buyers usually belonging to an ultra-rich, swanky crowd that disdains those of us who don't get it.
Museum visits only tend to heighten our alienation and fear. Why bother with viewing works that were produced during the Renaissance or in Medieval times or even by some indigenous, previously oppressed group, when we are unlikely to recall their contents or significance after a hurried, Instagrammable walk through an air-conditioned hallway?
Arjun Agarwal: Does Not Envision a Career in Art
Arjun Agarwal both articulates and empathizes with this feeling. After acquiring a Bachelor's and Master's in Electrical Engineering from Stanford University, he worked as a technologist with Arista Networks in the Valley. Till then, his brushes with art had been typical of a high-performing Indian student, who is encouraged to dabble with art as a hobby, but not pursue it as a career. During his school years, despite his strong interest in History and Economics, and his aptitude in Writing, he focused on Science and Maths – subjects that he was not only animated by, but for which he also had a demonstrable aptitude. He was, in fact, one of the enviable few who garnered a high rank in the IITs without attending any coaching classes, though he decided not to join the Institutes.
But Art wasn't on the horizon then. After all, even his childhood forays with the field had been less than encouraging. Since his mother and grandmother had been painters, he had been inducted into an art class, conducted by a family friend, at the early age of 3. "I hated it," he says, with a wry laugh. While charting his technology and later business career, Agarwal did not give art a second thought. "I had been turned off art for many years and I decided that art is not for me." Echoing de Botton's views, Agarwal writes in his blog: "People, (myself included), often find themselves intimidated by fine art. Given the astronomical prices we routinely read about at auctions, it is easy to believe that art is the exclusive purview of high-end galleries and wealthy collectors."
Art as Therapy: Introduces a New Reading of Art
Such uppity and less emotive approaches to art, usually involve reading works for their technical qualities, for their historical contexts, for their political meanings or for their "shock-value" rebuke of existing norms. These types of readings are, according to Alain, typically taught at Art History Schools and briefly conveyed by Museum captions. But unfortunately, such arcane knowledge, leaves most visitors unmoved. An obscure Museum plaque or technically-worded, fact-filled writeup is unlikely to engage a viewer's attention in our current media-saturated environment. So, de Botton suggests a new and fifth approach: a therapeutic one, wherein artworks will impart a sort of self-help message, or at least compel us for psychological reasons to look again.
Expanding on his viewpoint with an example, de Botton shows us two possible captions for a piece titled, Christ Appearing to His Mother, by Juan De Flandes (1496).
Here is the actual description that is used at the Metropolitan Museum of Art in New York, which Alain positions as a boring turn-off: "Workshops routinely produced copies of paintings that were prized for their spiritual powers or for the status of their authorship and/or ownership. Such factors prompted Queen Isabella of Castile to order a copy of Rogier van der Weyden's Mary Altarpiece…" Why should anyone, but a few stodgy historians, care about what workshops did in the 1400s or how Queen Isabella spent her disposable time and resources, given that most of us don't even know (or care) about who she was? Why would visitors, flocking to such museums, from all over the world, read caption after similar caption, with such pointless, eminently forgettable trivia?
Instead, suggests the author, take a look at how a caption for the same painting can be made more meaningful and compelling to a contemporary viewer: "The picture shows us a shocking encounter between a mother and a son. She has seen him humiliated and abandoned. But now, despite everything, he is restored to her. She thought she had lost him. But he is here…" At the end of his more readable description, de Botton even suggests a call-to-arms, a self-help sort of message, that today's crowds might appreciate: "The picture makes the claim that such moments of return (and of survival), though fleeting and rare, are crucially important in life. It wants men to understand – and call – their mothers."
Arjun Agarwal: Trains Himself Before Foraying into Art
Before returning to his own family and "motherland," Arjun was unexpectedly tugged towards the art world, by two, rather magical encounters. The first was at the Museum of Modern Art in New York, where Agarwal found himself riveted by the Spanish surrealist, Salvador Dali's work. Like the melting pocket watches depicted in Dali's The Persistence of Memory, a work that is sometimes linked to Einstein's Theory of Relativity and the mysterious ripples of time, Agarwal's recently spiked interest in art was fueled again when he encountered his future wife. Since Stuti Somani was already an enthusiastic art collector, Arjun's curiosity was aroused. He was keen on adding to the collection, but only after educating himself on contemporary artists. Surprisingly, he found that buying Indian art was not easy.
For one thing, knowledge about contemporary artists was not widespread. Like most laypersons, Agarwal had heard about celebrated stalwarts like M.F.Husain, S.H.Raza and F.N. Souza, but knew little about others. Moreover, as Arjun puts it, "The system did not seem very efficient." To top it all, as he explored the space with greater intensity, he realized that a rich wealth of contemporary art was being produced, but not adequately marketed to prospective buyers. Tying up with his roommate from Stanford, Akshay Kothari, he decided to found a venture that would sell "contemporary art at affordable prices to the Bay Area." The enterprise, called "Outliers Collective" (https://www.outliers.co/) intended to source pieces from vibrant Indian markets, ship them to the Bay Area and then display them to interested buyers inside rented gallery spaces.
In the lead up to the venture, Arjun also consciously trained his own "eye" for a few years to enrich his curation. Conversations with expert mentors like Abhishek Poddar, an ardent collector and the Founder of the Museum of Art and Photography in Bangalore and Premila Baid, Founder of Gallery Sumukha, assisted with his learning. Beyond such interactions, Agarwal also travelled to events such as the India Art Fair in Delhi, the Serendipity Arts Festival in Goa and visited galleries in Mumbai, Bangalore and Delhi. Drawing from his lifelong interest in History, Philosophy and Writing, he also read many books on contemporary art.
Soon after acquiring pieces for their first show, the COVID pandemic brought everything to a halt. But Arjun realized that since he had bought most of his pieces after glimpsing at images on WhatsApp, email or online, and had been satisfied by the physical versions later, an online show could also work.
Currently functioning as an online gallery for interested collectors and first-time buyers around the world, Outliers attempts to recreate the offline experience as closely as possible. For instance, the pieces can be viewed from various distances or inside specific indoor settings. Moreover, just like the signs at physical galleries, a green dot indicates that pieces are still available, and a red dot signifies "sold". Usually, their shows focus on a single artist, but sometimes they integrate a group of artists, unifying them by place or a theme.
Like de Botton, Agarwal also realizes that people often want to buy art, but they want to know why they should be induced to like one piece over another. There is a keenness not only to prettify one's walls, but also to engage more deeply with one's purchases. At this point, Agarwal himself writes up the content for each show, drawing from his own immersion in the field and from his earlier stints in writing.
Art as Therapy: Seven Functions of Art
Alain suggests seven reasons or "functions" that might induce hesitant buyers to invest in art:
Art, like photography (which can be considered a subset of Art), often helps makes permanent that which is fleeting or evanescent. Certain works can summon places or scenes or moments in our lives, which are likely to recede into a blurry distance, over time.
Perhaps, one of the reasons we gravitate towards pleasing landscapes or gardens is to distract ourselves from the sordidness of our everyday lives. Beautiful art represents hope and optimism, qualities that are essential to face the inevitable hurdles presented by life. Idealistic images also expand our possibilities, for instance by offering a sense of harmony in the midst of chaos. The picture of a green countryside hung up in a cramped, city apartment can expand our notions of who we are as human beings, or even who else we can be.
To Comprehend Sorrow as A Shared Experience
As much as art can capture beauty or joy or positive periods in life, it can equally represent grief and despair. Some art pieces intend for us to inhabit sorrow as a common universal emotion, something we should greet with curiosity and intensity rather than immediately pathologize. Sometimes, art transforms grief into something loftier. At least if we have survived a past, painful experience, we possess a sense of having transcended it.
To Rebalance Our Lives and Fragmented Selves
Most of us have an excess of something and deficits in other areas. For instance, too much work and too little leisure, or excessive boredom and too few purposeful activities to fill our days. As Alain puts it, "A work of art helps return to us the missing portions of our characters."
For instance, a Queen, who was surrounded by lavishness, created a faux-farm at her palace, so that she could "inhabit" simplicity by watching cows being milked. After all, even an excess of riches can be stultifying and imprisoning.
To Cultivate Wholesomeness
At a time, de Botton notes, when Churches and other Religious Authorities, have lost their hold on human morality, Art can restore those aspects of ourselves that feel empty or directionless. Even an object as simple as a Korean Moon Jar can remind us to tolerate our own frailties and to accept ourselves as we are.
To Enhance Self-Understanding
In a work titled "Panorama," by the artist Cy Twombly (1957), a black surface is imbued with scratch marks, almost like a school black board scratched over with a sharp object. The scribblings are indecipherable and de Botton says that is the point: "The part of me that wonders about important questions and then gets confused has had enough recognition."
To Promote Personal Growth
Often particular pieces of art provoke disgust, or fear or outrage, because they remind us of past experiences in our own lives. For instance, someone who has had a traumatic childhood might instinctively abhor or fear all paintings of children or of parent-child relationships. But de Botton says we can actually use art works to overcome such instinctive reactions, and start learning to tolerate those moments inside the safer space of a picture frame.
Arjun Agarwal: Imbues the Art World with an Outsider's Perspective
Entering the Art World from another domain has imbued Agarwal with an outsider's viewpoint. Retaining a distinct sensitivity to buyers' bewilderment about purchases, Arjun often takes the time to explain why he likes a particular painting or artist: "My interpretation of why I think these paintings are cool are really helpful. For instance, there's an artist at Vizag who paints pictures of ship painters – people who paint ships. And I felt, because of all the protective clothing they were wearing, they seemed androgynous. The figures almost seemed to represent a swapping of gender roles, since normally ship painting would be a heavy-duty and hence masculine task."
Like in any consumer product sale, the emotive tug towards a particular aspect of the piece, helps cultivate buyer interest. Arjun has also built up his own personal collection that today spans paintings, photography, graphic prints, and sculpture from modern as well as contemporary artists. While curating for Outliers, he makes his selection in a simple way. "I will not show anything that I would not want to add to my personal collection", he says.
While Arjun also wields another role – as the CEO of Cinerama, a business that sells home theatre solutions – the online gallery is a passion: "I get a sense now of what it really feels like when you're living your passion." de Botton would agree that a life, imbued with such feeling, is one of the primary functions of art.
References:
de Botton, Alain and Armstrong, John, Art as Therapy, Phaidon Press Limited, London, 2013