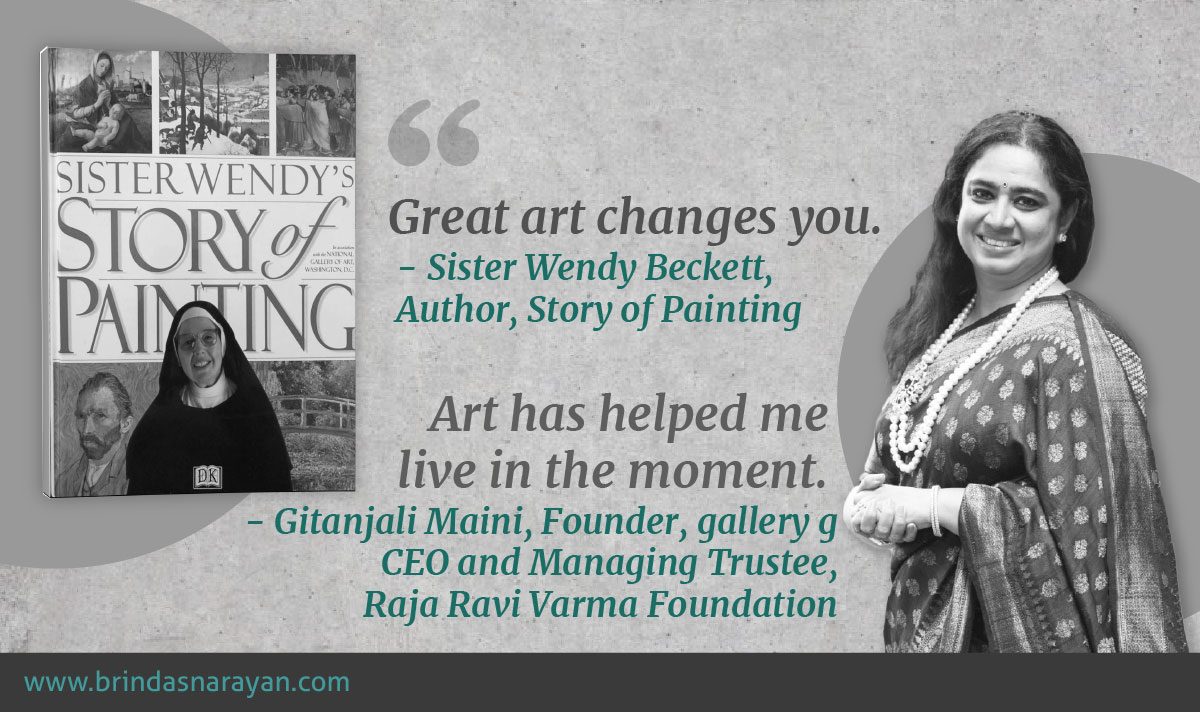 How Careers in Art can Deepen the Spirit: The Inspiring Life Stories of Gitanjali Maini and Sister Wendy Beckett
Monday, October 28, 2019
Gitanjali Maini: Foraying from HR to the Art World
Situated inside the heart of Bengaluru, gallery g (www.galleryg.com) seems to freeze time and halt the city's perpetual busyness. Designed with an elegant sparseness – shafts of light on wooden floors, the arresting views of a vertical garden, a lobby area that sports prints of the legendary Raja Ravi Varma – the space embodies a reprieve from the trafficky tumult. When you step inside, the ever-smiling and ebullient Gitanjali Maini welcomes visitors to explore the exhibits – which can range from abstracts by the renowned Bose Krishnamachari to Sangeeta Abhay's oils on the Buddha. Conscious about encouraging new artists while also offering access to masters, Maini inventively rotates her exhibits to capture the many dimensions of Indian art.
Gitanjali herself had not foreseen such an intimate involvement with art till much later in life. With a natural affinity for people, she topped the University during her degree program in Human Resources. Soon after, she gravitated towards a job in HR, interning under Hema Ravichandran at Infosys and continuing with the organization for a few more years. Later, after a break from work and when her daughter was two years old, she wanted to explore avenues that would both stimulate her and leverage her strengths. Toying with two options – event management and art – she eventually settled on creating gallery g. She admits, while starting out, that she had little knowledge of Indian artists or of painterly techniques or of the complex web of curators, galleries, dealers and art markets."Like most newbies in the territory, I thought Jamini Roy was a woman," she laughs. But with a keen intelligence and a zest to enter deeply into the new terrain, she consciously set about educating herself.
While week days were occupied with establishing the gallery and interacting with a wide swathe of people, she spent her Sundays poring over books. Some of the titles she remembers vividly at that stage include Art Forms of India by M.N. Goswamiand The Diaries of Raja Raja Varma by Usha Balakrishan. She also immersed herself in Ralph Mayer's Artists Handbook of Materials and Techniques. Though the book was geared towards professional artists, Maini was keen on absorbing the techniques behind pigments, oils and washes. She learned also about the various schools of Indian art, ranging from the Bengal School to the Maharashtrian one.
Sister Wendy Beckett: From a teaching nun to a TV star nun
Sister Wendy Beckett hardly seemed to possess the attributes of a TV star. Firstly, she was a nun, clothed in a conservative black-and-white habit. Moreover, she was already 62. Then there were her unfashionably thick glasses, her rabbit teeth, and her discernible speech defect. Yet, Sister Wendy, was destined to take the art world and public audiences in the U.K. and the U.S. by storm.
Born in South Africa, Beckett had committed herself to the Notre Dame Order at the early age of 16. Since she had always demonstrated a proclivity for theatre during her school years, the Order sent her to Oxford to acquire a degree in English Literature. At the University, she only left the nuns' hostel to attend lectures and did not make a single friend. She graduated, however, with a Congratulatory First and J.R.R. Tolkein, who was one of her professors, offered her a faculty position. But Sister Wendy returned to her Order at South Africa, to teach at a convent school and later at a University.
In 1970, impelled by declining health, she requested a withdrawal from her active teaching role to spend time in meditation. The Order permitted her withdrawal into quiet contemplation inside a barebones trailer, parked on a wooded area in the U.K., inside a Carmelite convent. Later, to contribute financially to the Carmelites who were feeding her (mostly just one frugal meal a day), she started studying art works in books and on post card reproductions in order to write magazine articles.
At an art exhibition, in the presence of a TV crew, Sister Wendy was describing a painting to a friend. Enchanted by the nun's vivid narration, the crew asked Sister Wendy if they could film her too. The short piece appeared on a regional channel, and was spotted by a BBC producer, who sensed he had stumbled on television "gold". Soon, the BBC had persuaded her to share her infectious enthusiasm for all Western artworks, carting her away from her solitary trailer to museums and monuments where the originals were displayed.
But even as she submitted to BBC's demands, she was hardly willing to give up on her religious practices. Her contract with the network included a stern clause that she would be taken to Mass, every day, regardless on wherever on the planet the crew was compelled to take her. The show, titled Sister Wendy's Odyssey, was a huge hit. Much later, she was commissioned to produce a series for the PBS in the U.S.
Gitanjali Maini: Widening her interventions to the Kochi Biennale and the Raja Ravi Varma Foundation
For the next five years, as Gitanjali turned the gallery into both a creative and collaborative space – occasionally inviting fellow-curators from galleries in other Indian cities to jointly curate exhibits for gallery g – she continued to broaden herself. To sharpen her business instincts and to gain new perspectives on CSR possibilities, she signed up for a mini business course at Harvard. The stint abroad gave her new insights into "giving", prompting her to see it as a "two-way process." Around then, Gitanjali and other members of the Maini family were involved in sponsoring and envisioning the first edition of the Kochi Biennale, held in 2012. Gitanjali was intent, even then, to make it a "People's Biennale" – with low entry costs, plaques in vernacular languages and engagement with local audiences. With the Mainis' continued involvement over each of the five editions of the Biennale, the most recent edition was explicitly termed a "People's Biennale."
In 2014, Gitanjali discovered that there was no Foundation for Raja Ravi Varma. The cultural memory of the eminent painter (1848 – 1906), known for fusing European and Indian sensibilities and for making his art accessible to ordinary people through lithographic reproductions, was fading from new generations of Indians. With a strong belief in larger spiritual forces, Gitanjali was convinced that the "universe" conspired to bring the Foundation into being. Because soon after she was struck by the idea, she stumbled on an American art blogger, Gary Arseneau, who exposes fakes inside prestigious collections and museums. She connected with him to educate herself further, and shortly after encountered Jay Varma, the great grandson of Raja Ravi Varma, who introduced her to his mother, Rukmini Varma. Around then, she also stumbled on Rupika Chawla's book, Painters of Colonial India, a work that deepened her insights into Ravi Varma's historical context. Rukmini Varma consented to supporting the Foundation if Gitanjali assumed the role of CEO and Managing Trustee. Established in 2015 and modeled around the reputed Picasso and Rembrandt Foundations, the Raja Ravi Varma Foundation bolsters social awareness of the painter's cultural contributions. As a non-profit venture, funded by Gitanjali and Sandeep Maini, the organization does not trade in his works.
So far, the Foundation has curated inventive events that evoke the original artist. For instance, Ravi Varma had created Chromo Lithographs which were embellished. So, Maini organized an event with the French artist, Olaf Van Cleef, who hailed from the Van Cleef and Arpels jewelry family, and spawned a "pop-up store" that had pieces inspired by Varma's paintings and burnished with jewels. The Foundation also held a talk by Usha R. Balakrishnan on the kind of jewelry that Ravi Varma was known to paint. More recently, to commemorate Gandhi's 150th birthday, her team contributed 30 Ravi Varma images toGaurang Shah, a textile revivalist and designer, to create khadi saris inspired by the painter. Drawing from the tech-savvy culture of her city, Gitanjali also forged a connection with the Google Arts and Culture team to make her exhibits virtually accessible. Lately, to foster other artistic and cultural conversations, Gitanjali partnered with her husband, Sandeep Maini, to create the Sandeep and Gitanjali Foundation.
Sister Wendy Beckett: Viewing art as a spiritual practice
Part of Sister Wendy's popularity rested on her delightful appreciation of all art, however seemingly irreverent or erotic the painterly themes were. Since much of Western Art centred around the human body, and often displayed sculpted or painted nudes, Sister Wendy remarked that "God" would never create body parts that humans need to be ashamed of. Despite staying a staunch virgin all her life, she viewed the desire for pleasure as a God-given characteristic and disavowed the "puritanical" abhorrence of it.
But Sister Wendy did urge viewers of art, regardless of how much or how little they knew of a work or its artist, to slow down, and sacrifice time and make effort to understand a work. She said that the average time a museum visitor spends with a painting – approximately two seconds, according to studies – is hardly sufficient to deepen oneself. While she urged all people to also study the historical context of the painter, and of the work, she encouraged all persons – laypersons, novices – to engage with art. As Sister Wendy put it, "While life lasts, let us live it, not pass through as zombies, and let us find in art a glorious passageway to a deeper understanding of our essential humanity."
Gitanjali Maini: The spiritual drive behind her artistic ventures
Gitanjali also mentions the deeper spiritual significance of the gallery. She says that most people assume the "g" in gallery g stands for "Gitanjali." But the letter was inspired by Guruvayurappan, the deity in the renowned Guruvayur temple, a place that has always held deep resonance for her. She also agrees that her immersion in art has changed her. It has inspired her continual learning, given expression to her creativity, and intensified her relationship with the world and her place in it: "Art has helped me live in the moment."
References:
Beckett, Sister Wendy, The Story of Painting, Dorling Kindersley, London, 1994