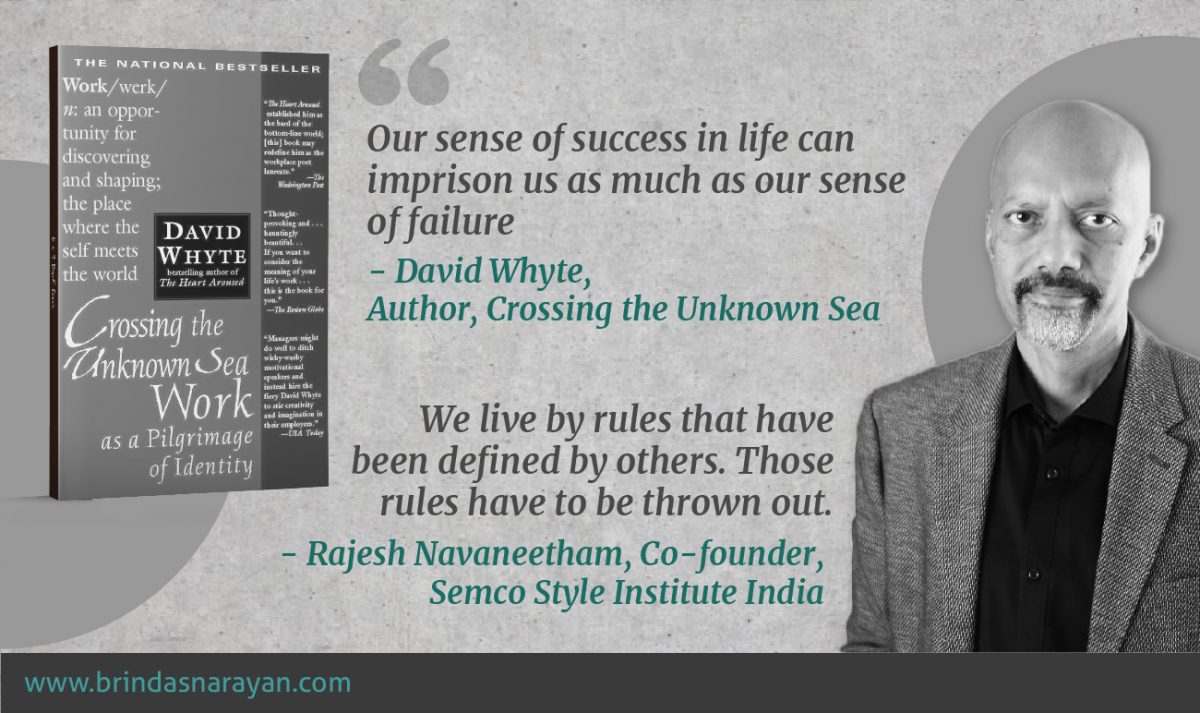 When Purpose Steers a Career Trajectory: Rajesh Navaneetham's Transformational Journey
Tuesday, October 8, 2019
David Whyte: An Encounter with a Stranger
David Whyte, a poet who engages with American corporations to inspire creativity, once had a transformational encounter with a stranger. Whyte was in his early twenties, and had recently graduated from college with a degree in Marine Biology. Struggling to land a job, he was despondent about his future. Around then, he had checked into a friend's farmhouse, in North Wales. On a cold wintry evening, Whyte found himself alone, warming himself before a fire.
A stranger walked in, someone with a rare storytelling capacity. The man, a landscape gardener with an intimate knowledge of trees and the woods, entranced Whyte with his palpable fervor for his career. Whyte asked him how he had stumbled on his calling. The man said he had been pushed to the edge of despair by the person he had been. A drug addict, he lived in a derelict apartment with other addicts. One damp and rainy day, he decided to put an end to his life, and leapt from the window. He landed with his face down on a large flower pot on the terrace, with the rain lashing at him. He wasn't successful even in killing himself.
Strangely, as he lay there, gazing at the mud and the tiny plants, something miraculous happened. He watched the water make tiny rivulets in the pot, and he replanted a few plants to help their survival. He didn't know anything about landscaping yet, but he was already doing, on a small scale, what he was destined to do on a much larger scale later. As he continued to engage in the small task, he was astonished that the despair he had felt earlier had vanished. He climbed off the terrace and checked into a detox program, and then signed up for a landscaping course. Since then, he hadn't looked back. From the cliff-edge of life, he had found his purpose.
Galvanized by the stranger's honest account, Whyte reapplied his energies to finding a job. After passing through arduous tests and interviews, he was appointed a naturalist guide to tourists at the Galapagos Islands.
Rajesh Navaneetham: A Family Narrative Spurs Self-Discovery
In Crossing the Unknown Sea, Whyte observes that after we pass through youthful delusions of having done everything on our own, we arrive at a stage, when we can acknowledge the invisible forces that have ushered us into our current occupations – actions of dead ancestors, a mother's prayer, a teacher's kind words.
When he was already a Director at Dell, Rajesh Navaneetham was unusually sensitized to the play of such unseen currents in his life. In his early forties, at a family get together, his father revealed aspects of his own life story. Apparently, Rajesh' grandfather had abruptly lost all his property in an ill-fated investment when his father was only in the second year of his Engineering degree. Without any other means to finance his college tuition fees, he resorted to an old-fangled form of crowdfunding – wandering from shop to shop inside his village, requesting the shopkeepers to donate whatever small amounts they could. Many good Samaritans pitched in small amounts – ranging from 20 rupees to whatever else they could afford. "My brother and I realized that if those people hadn't helped my father we wouldn't be where we are today."
Stirred by the invisible forces that had forged their own successes, Rajesh and his brother created a Trust to fund high-potential, impoverished youth through their Engineering degrees. Till date, they have funded about 40 students through their Engineering courses. But Rajesh was also struck that 13 of those 40 graduates did not get jobs. He realized his social contribution needed to extend beyond education, into job creation in thriving enterprises.
David Whyte: Leaving Galapagos for the Unknown
In his job as a guide around the Galapagos islands, Whyte was to experience what he terms "culture shock." It was the shock of encountering nature in its rawest form, of witnessing the manner in which creatures around him lived and died, and were controlled by forces not of their own making. David started sensing how recently humans had entered the planet's ecological landscape, and how vulnerable both he and all humans were in the face of overwhelming natural forces. He also felt that something much larger than mere human ambitions was in operation, a universal force that worked to a much grander scheme.
Inside the wilderness, Whyte underwent a profound self-transformation; he felt his "personal identity" was not shaped so much by his beliefs and opinions, but by his ability to play close attention to the world around him. Instead of giving in to blinding ambition, which seeks to fulfill goals that are socially revered but personally meaningless, he tried to plumb his individual desires, which arose from an awareness of his own strengths, feelings and position in the world. Without knowing where he would be headed to next, he knew he had to leave the shelter of his current job and move into other possibilities.
Whyte astutely observes that "our sense of success in life can imprison us as much as our sense of failure." He warns against being lulled by the ennui and convenience of an upper-middle-class existence, where the grasses are mowed, and bills paid, but our spirit feels diminished. Walls, self-imposed or propped up by other forces, can confine our lives to the same repetitive work inside the same cubicle or cabin, however lofty our title or impactful our contribution. "Often, in order to stay alive, we have to unmake a living in order to get back to living a life we wanted for ourselves."
Rajesh Navaneetham: Quitting a Senior Leadership Position To Found A New Enterprise
As a Senior Leader who had received some of the highest leadership ratings from his team, Navaneetham was beset by a gnawing unease. Despite the stable income and thriving relationships with subordinates, peers and bosses, he sensed a growing discomfiture with his work. One morning, while navigating the peak-hour traffic from HSR to Whitefield, he spotted a visually-impaired man attempting to cross the road. "Ideally, I would have liked to park my car and help him, but I was running late and the traffic was terrible." As he headed towards his meeting, he started wondering about the person his job was compelling him to be. Bound by punishing schedules and relentless commitments, he felt remorseful about his incapacity to act as compassionately as he wanted to. As Whyte puts it, work is not just about what we have done, of milestones crossed or targets achieved, but "who we have become while accomplishing the task."
Rajesh remembers the pivotal moment when he decided to quit the sanctuary of assured success and venture into a less certain future. "One day, I was sitting at the Heathrow Airport, watching planes take off silently across a bright blue sky. Somehow the setting got me into a contemplative mood – I've always admired planes as being such a product of human ingenuity – and to see them quietly lifting off was very calming and stimulating." During the imposed wait, Rajesh started reflecting on the purpose of life. He drew out a piece of paper and started jotting down his strengths and weaknesses. He was already 45 then, smack in the middle of life. He was reasonably secure financially, had strong experience with running technology projects and enjoyed building high-performing, upbeat teams.
The thinking also entailed a temporal shift. He no longer wanted to work to finance his future, but to use savings already accumulated to live inside a more engaged present. As Whyte himself realized, at the cusp of another career change: the antidote to exhaustion is not rest, but "wholeheartedness." As one of Navaneetham's personal goals, he wanted to help uplift at least a thousand people from poverty. But not necessarily through inattentive giving.
While at Dell, Rajesh had already brushed against some of the pitfalls of charity. When the Raichur district in Karnataka was struck by floods in 2005, Rajesh urged the Dell leadership team to donate as much as feasible. Colleagues expressed concerns about donations not reaching their intended targets. So Navaneetham volunteered to distribute the giveaways himself. When he offered his personal time in this manner, funds poured in. However, at the villages, giving turned out to be much trickier than expected.
Accompanied by a team of 10 people, Rajesh travelled by bus to Raichur and then on tractors to reach affected villages. But inside villages, he was confronted by scenes that were both perplexing and disheartening. While he found most women working in the fields, the men dawdled under trees, smoking. When asked why the men were not scrambling to rebuild their shattered homes, he was told that the inhabitants were reluctant to do so in case they were skipped over during Government handouts. Moreover, the team also found some belligerent men seizing more than their share of the donations. In one village, when they tried to direct their packets only at women, they were mobbed and screamed at, almost setting off a stampede.
Other similar experiences reinforced the complexities of "giving". He decided instead, to assist for-profit social ventures with funds, technology and strategy inputs. Soon after, he felt like unseen forces were aiding his efforts. Promptly after he had put his thoughts down on paper, he received inroads into the social enterprise world and into the Indian Angels Network.
Rajesh Navaneetham: Enlarging his Impact in New Directions
Even as he continued to consult with inventive social ventures, Rajesh observed that many organization practices were not designed to lift employee engagement. Merely creating jobs without tackling sources of workplace stress felt inadequate.
Much earlier in his career, Rajesh had been immensely moved by Ricardo Semler's book, Maverick. Semler had turned the ailing Semco into a multimillion-dollar conglomerate, using imaginative and intensely democratic management and labor practices. Navaneetham's own management approach, with each of his high-performing teams had been drawn from Semler's radical methods. Compared to fellow-managers, Rajesh had awarded his subordinates with a high-degree of autonomy and always practiced a participatory, transparent style of functioning inside his teams. In 2018, he stumbled on the Semco Style Institute that aimed to champion Semler's methods in other organizations around the globe.
Partnering with two ex-colleagues, Rajesh decided to start a Semco Style training and consulting organization in India. Not only was he personally encouraged by Ricardo Semler himself – who sent an inspiring video-message to the India team – but also by the Semco Style Institute based in Amsterdam that generously shared their materials and expertise. The aim of the Semco Style Institute in India is to foster happiness in Indian enterprises – in both startups and larger organizations that need to accommodate millennial and postmodern cultural shifts while designing their managerial processes.
As Whyte says, work can break us or make us, it can corrode our characters or exalt us. But work is a pilgrimage, which not only carries us through different stages of life, but also into different "stages of understanding." Navaneetham would agree with the poet that, given the significance of work in our lives, we should do that which we desire and that which is suited to our essential nature. What we do and the way we do it will help us reimagine ourselves.
References
Whyte, David, Crossing the Unknown Sea: Work as a Pilgrimage of Identity, Riverhead Books, New York, 2001.